Police probing the fatal tram derailment that killed seven people near Croydon are examining reports that another tram almost came off the tracks at the same point in the previous week.
The tram overturned on Wednesday (9 November) at a sharp bend approaching a tunnel near Sandilands tram stop shortly after 6am GMT.
Authorities revealed that six men and one woman died in the tragedy that left 51 others injured. The tram had now been lifted upright, but it will not be moved off site until Friday (11 November).
The Rail Accident Investigation Branch (RAIB) say the tram appeared to have been travelling too fast around the bend.
Police are already looking into whether the driver fell asleep, or blacked out, causing it to travel at a "significantly higher speed than is permitted" before careering off the tracks.
According to the Guardian, officers are now investigating reports which emerged on Facebook following yesterday's disaster that another early-morning tram had taken the bend too fast on 31 October and subsequently braked hard.
Describing the incident at the time, Andy Nias, from Croydon, wrote: "30 of us on the tram this morning and we all thought our time was up ... tram driver took the hard corner to Sandilands at 40mph!! I swear the tram lifted on to one side. Everyone still shaking ... it's mad."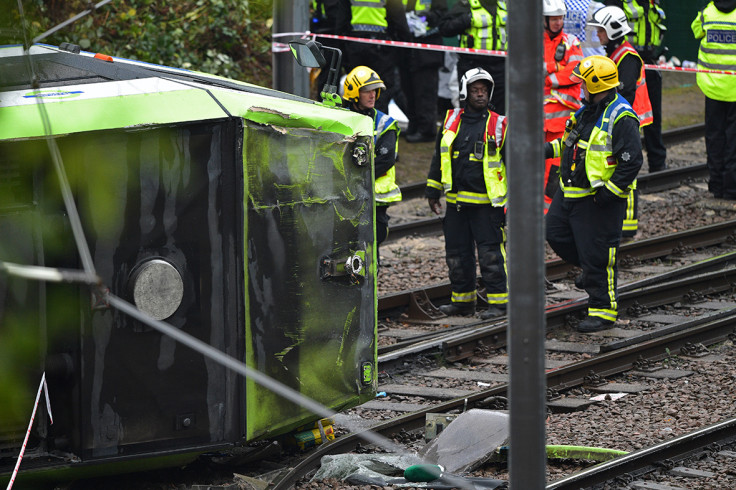 A spokeswoman for British Transport Police (BTP) said: "We were only made aware of the report on social media yesterday and it's now forming part of our inquiries."
So far only one victim, 19-year-old Dane Chinnery, who was travelling to work on the Tramlink service, has been named. The driver of the tram, a 42-year-old man from Beckenham, Kent, was arrested and has now been bailed on suspicion of manslaughter.
Flowers were laid at the scene of the tragedy this morning, and Chinnery – a Crystal Palace supporter – was described as "a beautiful lad" by friends. Barbara Dumbleton, a family friend, said: " [He] always had a smile on his face... he was absolutely lovely."
Martin Giles, the headteacher at his former school, Meridian High, said staff and students "have been heartbroken to hear that a former student died".
British Transport Police (BTP) said it was still "working with the coroner" to identify those who died.
Passenger Martin Bamford, 30, from Croydon, told the Daily Mail after the incident: "There was a woman that was on top of me... I don't think she made it at all. She wasn't responsive." Asked about the driver, he said: "I asked him if he was OK. He said 'yeah'. I said to him 'what happened?' He said he thinks he blacked out."