Passengers on board a luxury cruise liner that had turned into a floating toilet have finally ended their holiday from hell.
The stricken Carnival Triumph was towed in to dock at Mobile in Alabama, ending a five-day ordeal for its 4,200 passengers plus crew.
Holidaymakers staggered ashore to escape the stinking conditions and growing health hazard aboard the vessel which was left drifting in the Gulf of Mexico after a fire and power blackout disabled facilities on board.
There were also reports of fights between passengers over dwindling supplies of bread and onions.
Families who had paid thousands of dollars for a dream cruise on the 100,000-tonne liner said they had to wade through raw human sewage in their cabins after electric sewage pumps broke down. The passengers were forced to share just five working toilets and some claimed they had seen urine pouring down walls.
The decks were turned into a tent city as passengers fled the foul smelling and urine soaked cabins.
The crisis was caused by an engine fire that crippled the ship.
Even the rescue attempt was initially thwarted when a towline on a tug snapped as it was pulling the liner towards dry land.
Passenger Clark Jones told the BBC that experience had been "especially nightmarish because we knew we were so close to land and getting off".
Exhausted holidaymakers chanted "Let me off, let me off!" as they waited to disembark after the holiday from hell.
One homemade sign read: "Sweet home Alabama!"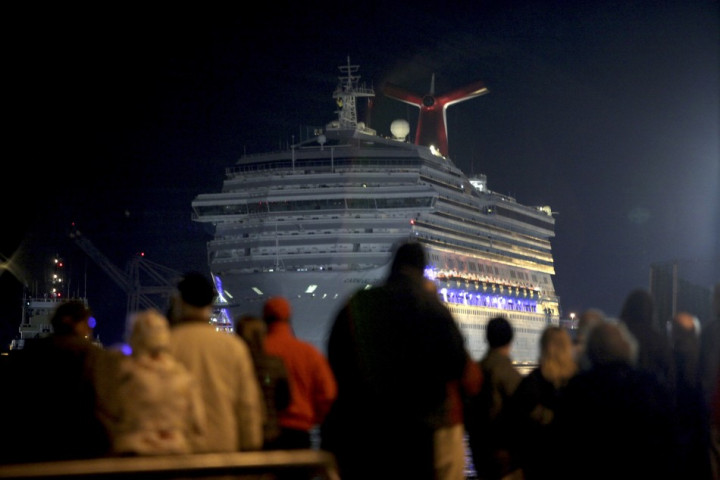 Homemade signs were drawn and displayed by passengers including one reading "The ship's afloat, so is the sewage.
Passenger Brittany Ferguson said: "The scariest part was just not knowing when we'd get back."
Carnival CEO Gerry Cahill apologised for the "very poor" conditions on board.
"We pride ourselves on providing our guests with a great vacation experience and clearly we failed in this particular case," he said.
The company has promised a full refund for all passengers and discounts on future cruises. The crisis on board the ship forced Carnival to cancel 12 planned voyages.
An investigation is under way by the National Transportation Safety Board.