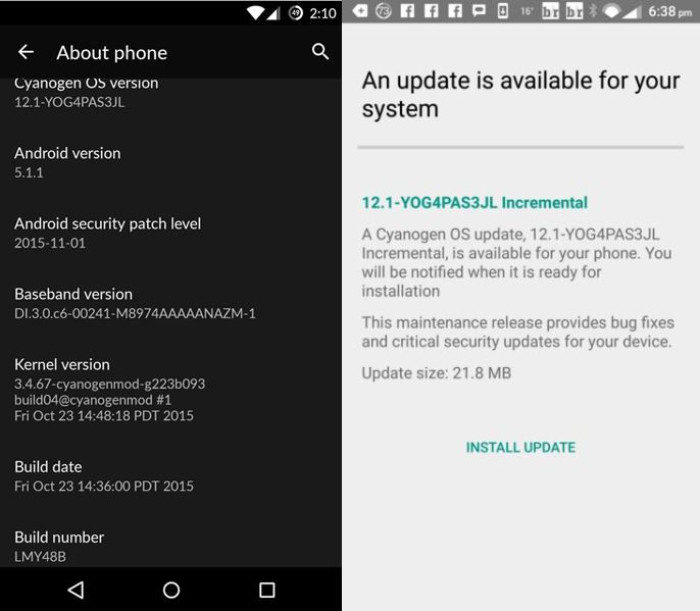 OnePlus has issued another incremental Cyanogen OS 12.1 software update for the OnePlus One after making firmware build YOG4PAS2QL available in October. The new release bumps the software version to YOG4PAS3JL.
Installing the OTA that weighs in at 21.8MB you should get the latest bug fixes and critical security updates on your OPO. It is also live in the UK, asserts users who have installed it. If the update is yet to arrive in your region, you can make use of the download links to flash the update manually on your phone. Below are two guides to help you with a manual installation. You may choose either of them depending on the root status of your phone.
Download
OTA
Full ROM
or, Fastboot image
Install Cyanogen OS 12.1 build YOG4PAS3JL on OnePlus One [Non-rooted devices]
Step 1: Copy the downloaded files to the phone's storage
Step 2: Switch off your OnePlus One and reboot into recovery mode. Turn on the phone while holding the Power and Volume Down buttons together until the phone responds. Within a few seconds you will be presented with the Recovery screen. Select "APPLY UPDATE" from the list of available options
Step 3: On the next screen select "Choose from internal storage"
Step 4: Now select the storage device which should be 0
Step 5: The OTA download file should be located on the Download folder, if you have allowed Chrome to automatically download the file. (If you have chosen a different location follow the appropriate directory to locate the OTA file
Step 6: Select the file then select YES to start installation
Step 7: When the installation is completed, select Restart
How to install Cyanogen OS 12 build YOG4PAS3JL on OnePlus One [For rooted devices with TWRP recovery]
Step 1: Reboot your OnePlus One into recovery
Step 2: In the TWRP recovery, select Install
Step 3: Select the downloaded update file
Step 4: Do a swipe on the Swipe to Flash option
Step 5: Select Wipe Cache/Dalvik from the recovery menu
Step 6: In the end select Reboot System
Head over to OnePlus forum to get help for the issues you come across with this update.