Hundreds Arrested at Far-Right Rallies in Czech Republic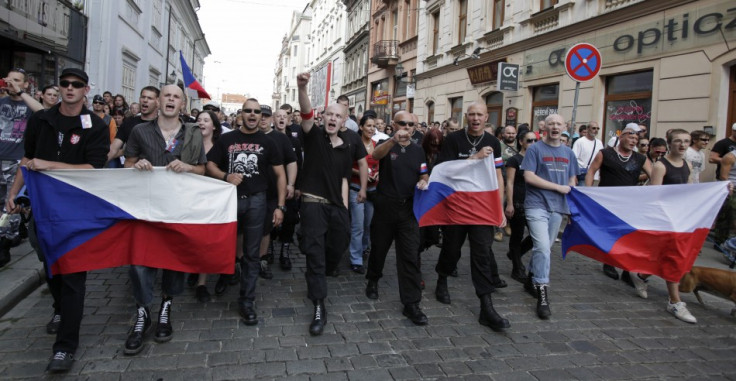 Hundreds of people have been arrested after far-right demonstrators clashed with police at anti-Roma rallies throughout the Czech Republic.
In Ostrava, 600 demonstrators attempted to march in an area with a large Roma community.
When their route was blocked by police, they pelted officers with stones, rubbish and sticks.
At least 20 were arrested, Radio Prague reports.
There were also clashes between demonstrators and police in České Budějovice
In the western city of Plzen, about 400 demonstrators gathered, and 15 arrests were made.
Attendance was much lower in other cities.
Anti-Nazi and human rights demonstrators staged rival protests in some cities, including the capital, Prague.
In recent years, there has been a spike in anti-Roma violence and discrimination in the Czech Republic.
"We have seen a deeply worrying trend over the past year with entrenched discrimination against Roma reaching new heights. This is a fundamental issue that the Czech authorities can't ignore," said Amnesty International's John Dalhuisen.
In 2010, four far-right extremists were jailed for an arson attack on a Roma family in Vitkov, in which a child was severely burnt.
The 250,000 to 300,000 strong Roma community is among the poorest in the Czech Republic. In a recent survey by the European Union Agency for Fundamental Rights 80% said they had experienced discrimination.
Communities in other parts of central and eastern Europe have also long complained of racist discrimination.
In neighbouring Slovakia, a district mayor was recently ordered to tear down a wall put up by authorities in Kosice separating the Roma from majority Slovaks.
A report by the EU and UN said that Roma across Europe have worse jobs, education, housing and health than their non-Roma neighbours.
Millions of Roma fleeing endemic poverty have fled Romania and Bulgaria for other European countries since the two former communist bloc countries became EU members in 2007.
© Copyright IBTimes 2023. All rights reserved.