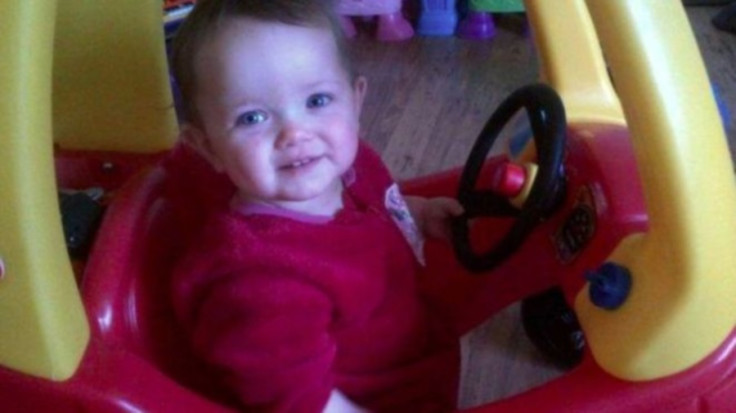 The CPS has ruled that there is insufficient evidence to charge a father who a High Court judge ruled had sexually assaulted his 13-month-old daughter in the hours before before her death. The lack of any action against Paul Worthington, the father of Poppi Worthington, or anyone else, was down to a failed police investigation, Cumbria Chief Constable Jerry Graham conceded on 14 July.
The Crown Prosecution Service (CPS) decided that there is 'insufficient evidence' to bring charges against the 48-year-old despite the damning verdict, delivered on 19 January 2016 at Liverpool High Court. Mr Justice Peter Jackson had ruled that, on the balance of probabilities, he "perpetrated a penetrative assault" on his daughter before she died.
Worthington was arrested after his daughter Poppi was found with serious injuries in December 2012 — but was never charged with any crime. According to her father, Poppi awoke screaming at around 5.45am.
She was rushed to hospital but died. She was found to have had a fracture of her right lower leg and other acute injuries which were said to be very rare in a girl her age.
Worthington has always denied that any assault took place but the CPS has said that, following the damning verdict that they would review the case file.
But on Thursday the CPS confirmed no charges would be brought. A spokesperson said: "The CPS has looked at the original decision in this case that there was insufficient evidence to provide a realistic prospect of conviction — as we often do in other cases. We have reached the same conclusion."
Chief Constable Graham issued an apology following the CPS decision to 'Poppi's family and all those who loved her' for failing to conduct a proper inquiry following her death which has left Worthington under suspicion from the Barrow community, where he once lived.
Graham admitted they had "let down Poppi Worthington, and her family, and I deeply regret this". "The primary responsibility of the police when investigating infant and child deaths is to shed light on the circumstances surrounding the death and in so doing provide a voice for the child, he said.
"In our failure to undertake an effective investigation after her death Cumbria Constabulary has let down Poppi Worthington and her family and I deeply regret this. Deficiencies in the initial police investigation have contributed to the fact that, almost four years after her death, the cause still remains unascertained."
Cumbria Police, which is being investigated by the police watchdog, affirmed that the main failings were not preserving potentially relevant evidence from Poppi's home and the length of time it took to interview family and key witnesses.
He added that forensic analysis was not carried out quickly enough and accurate records were not kept. A second inquest into the toddler's death is due to take place in the autumn.