Actor Dan Aykroyd has revealed he once saved his ex Carrie Fisher's life when she was choking on a Brussels sprout.
The 64-year-old made the revelation while paying tribute to the late Star Wars actress at a joint memorial service held for her and mother Debbie Reynolds.
It took place at the Forest Lawn cemetery in Los Angeles, the final resting place for Carrie and Debbie, 84, who died within two days of each other last year.
Carrie passed away at the age of 60 following a massive heart attack while on a flight from London to Los Angeles.
While celebrities had not been expected to attend, let alone speak, Aykroyd – best known for his turns in films including Ghostbusters, The Blues Brothers and My Girl – told those present and also watching via a live webstream: "I once saved her life, applying the Heimlich [maneuver] to dislodge a Brussels sprout from her throat.
Lamenting on her fate, he said: "If I'd been with our beloved showboat, I might have been able to save her again."
Within his turn at the podium, he also jokingly told how despite being briefly engaged to him, Carrie openly tried to rekindle her romance with singer Paul Simon, 75.
The comedian explained: "From beginning to end – sharp, hilarious, plunging, laughing, whooping, soaring, exhilarating Carrie.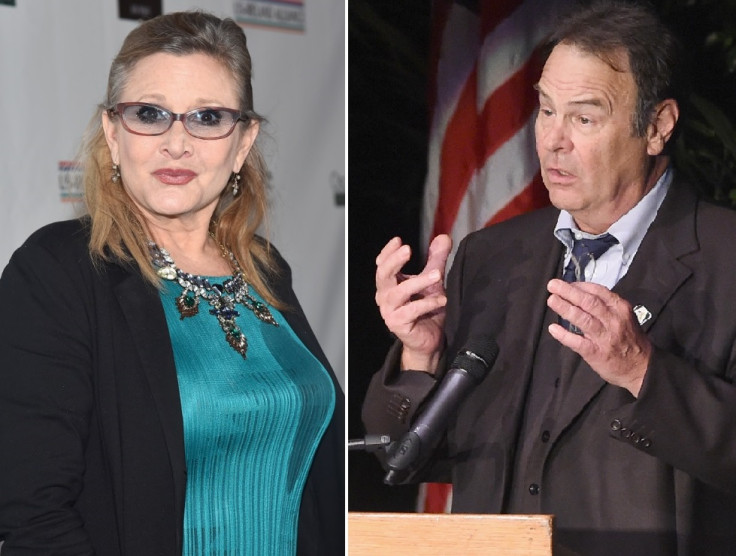 "She had long conversations on the phone in my presence with Paul Simon with whom she was attempting to reconcile at the time of my relationship with her.
"Here I found myself in love with a woman who was returning to a former intimate, and might I say a better choice."
Other highlights from the service which was attended by a number of Carrie and Debbie's close friends and family included a photo montage set to James Blunt's You're Beautiful.
The singer was a close friend of Carrie's and wrote the hit song while in her bathroom.
The Gay Men's Chorus of Los Angeles also performed a rendition of Cyndi Lauper's True Colours.