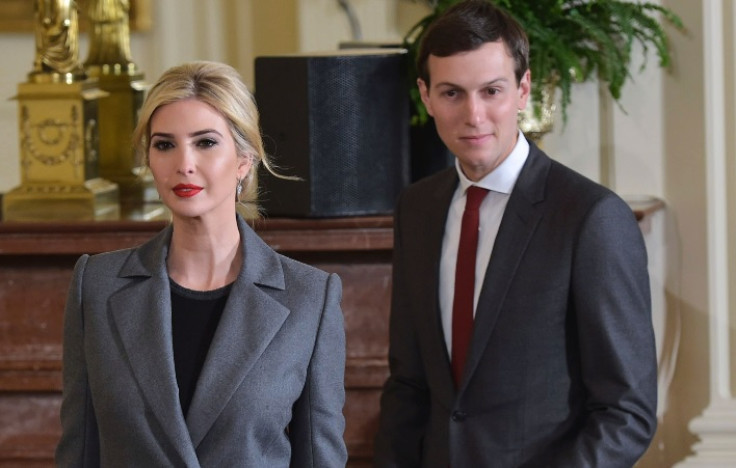 President Donald Trump's daughter Ivanka Trump and her husband Jared Kushner have angered their new neighbours with what they deem to be antisocial behaviour.
The couple only moved into their rented home in Washington, D.C.'s posh Kalorama neighborhood with their three children Arabella, 5, Joseph, 3, and 11-month-old Theodore, two months ago but residents claim they have since had their lives turned upside down.
Their biggest gripe seems to be parking. They allege that since Trump, 35, and Kushner, 36, arrived it has been nearly impossible to find parking on the already-crowded street.
Members of the Secret Service follow the family everywhere they go and block part of the road with their vans.
Some locals also allege that the couple appear to ignore the rubbish collection schedule and always leave bags containing waste sitting on the curb.
One resident, Marietta Robinson, accused them of "ruining the neighbourhood".
Speaking to the Associated Press, she said: "It has been a three-ring circus from the day that they've moved in. They've completely ruined the neighborhood."
Ms Robinson added to the Washington Post: "This is the adult child of the president. Sometimes there are 10 cars out there… They've completely taken over the whole street – as if they have the authority!"
The upscale area is no stranger to high-profile residents, however none have caused this level of outrage and upset.
Former President Barack Obama has lived there since he left office along with former First Lady Michelle Obama and their daughters, Malia, 18, and Sasha, 15.
Amazon chief executive Jeff Bezos and Secretary of State Rex Tillerson also recently purchased homes in Kalorama.
A Secret Service spokeswoman, Nicole Mainor, told the AP that members of the agency met with neighbours and city officials on Friday (24 March) to address concerns about parking and other disruptions.
When asked to comment on the complaints, Ivanka, via her aide, told the AP: "We love the neighbourhood and our family has received an incredibly gracious welcome from our neighbours."