Light heavyweight champion Daniel Cormier has revealed that "something bad will happen" if Jon Jones decides to enter the octagon after the UFC 210 main event.
Cormier will defend his title in a rematch against Anthony "Rumble" Johnson on Saturday (8 April) in Buffalo, New York.
However, the latest news is that Jones, a New York native, will be present at the octagon-side after it was confirmed that he will appear at UFC's media event to speak to the press.
Jones, regarded as the best pound for pound fighter and notably the youngest UFC champion in history, has a lot of bad blood with Cormier, who suffered his first defeat against the 29-year-old.
A series of events that followed resulting in Jones being stripped off the title and Cormier going on to become the new champion, all culminating in rematch at UFC 200.
However, it was not to be. Jones was pulled from the main event for an anti-doping violation with him later getting suspended until July 2017. With just three months left in the suspension, the latest rumours are that Jones will have a stare-down with the eventual main event winner at UFC 210 to promote the next title fight.
Cormier, who believes he will beat Johnson, has warned "Bones" not to step into the cage when he wins.
"He [Jones] better not come in my cage after I win," Cormier said, as quoted on MMAFighting. "He's not welcomed in there, he's still suspended."
"When he's eligible to fight, then he can walk in the cage, but if he dares to step foot in that Octagon, something bad will happen."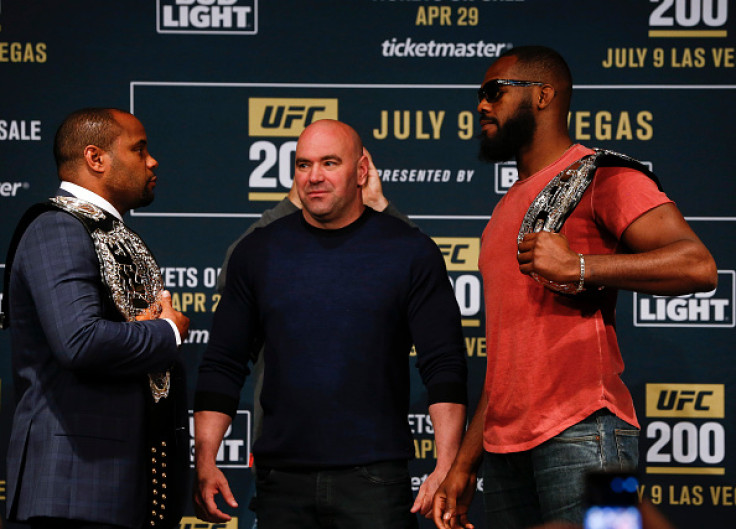 The Olympian did reserve huge praise for Jones' ability as a fighter but insists he is focused on his title fight and not on his old foe.
"The guy [Jones] is the most talented human being I have ever competed against," he added. "He's so good at every aspect of fighting, but for him to have done the things he has done, to limit the history that he was making, it's crazy, it's sad."
"But at the end of the day, I have to worry about myself and Anthony Johnson. You guys [media] care about Jon Jones. We don't. He's a non-factor. This is a guy that hasn't fought in almost two years. The last time he fought Ovince Saint Preux, it was just a sh*tty fight, almost as bad as me and Anderson Silva."