A Danish teenager and her Iraqi boyfriend have been jailed after stabbing the girl's mother to death. Aged 15, Lisa Borch spent hours watching footage online of the decapitation of hostages by Islamic State militant Jihadi John.
Borch and her 29-year-old boyfriend Bakhtiar Mohammed Abdulla then stabbed her mother, Tina Römer Holtegaard, to death in her bed in the home they shared in rural Kvissel, in northern Denmark.
A court heard how Borch became obsessed with militant Islam after falling in love with an unnamed Muslim, who moved back to Sweden to be with his wife and children. She met Abdulla at a refugee centre near her home. The court heard that she planned to flee to Syria with to join IS (Isis).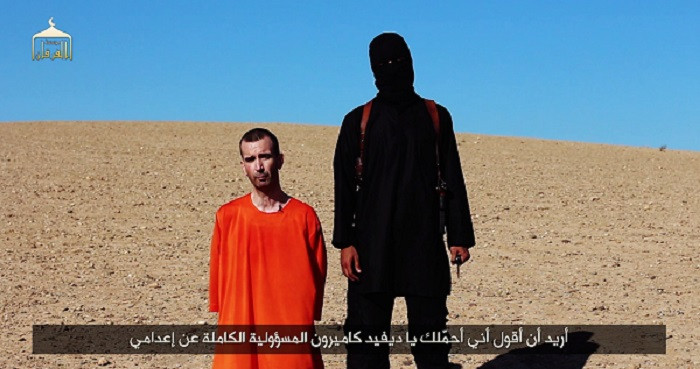 Borch rang police on 8 October, 2014, and told officers: "I heard my mother scream and I looked out the window and saw a white man running away. Please come here, there is blood everywhere," reports the Daily Mail. Police arrived to find Holtegaard with more than 20 stab wounds covered in blood in her bed. Borch had drugged her before attacking her.
Borch was sitting on a chair in the living room watching videos on her iPhone when police arrived. When officers asked where her mother was, she simply pointed upstairs. When police subsequently examined her computer, they found the teenager had watched videos of IS executions for hours at a time.
The teenager had argued with her mother, who had told her to break off her relationship with Abdulla, the court heard. At the time of the murder, Holtengaard's husband was away on a business trip.
In court, Abdulla and Borch blamed the murder on each other, and had changed their statements to police frequently. Police found Abdulla's fingerprints in the bedroom, and both were found guilty.
Her stepfather, Jens Holtegaard, told Germany's Bild: "Tina was a wonderful mother who did everything for her daughters. Not in my worst imagination I could have imagined such a development. Nothing in Lisa's childhood suggested that there will be problems. Everything has rammed us like a comet, completely out of the blue. "
Borch was sentenced to nine years in jail. Abdulla was given a 13-year sentence, and will be deported after it is served. Both will also have to pay compensation to Holtegaard's husband, as well as Borch's twin sister and younger brother.