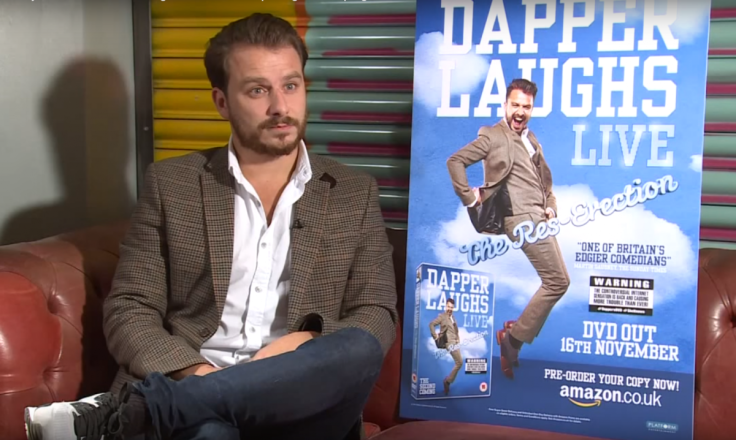 Dapper Laughs, the man who claims he once told an audience member that she was "gagging for a rape" because he was responding to her comment, is now a feminist. In the biggest U-turn in the history of U-turns, the comedian who built his career on peddling sexual harassment banter with Vines such as asking a woman on the street "Excuse me darling, I couldn't smell your fanny could I?" has said he believes in equal rights for men and women.
In an interview with women's rights campaigner Caroline Criado-Perez, Daniel O'Reilly – the man behind Dapper Laughs – said he considered himself a feminist. But rather than a heart-warming display of personal growth, to me it seems his comments are further proof of his desperation for publicity and his disdain for women.
Dapper has been endowed with two things: an astonishing ego and an ability to come back from the dead. If his comments were sincere, the move would undermine his whole career – which has, so far, been founded on advice on "how to get pussy". It doesn't quite fit with his new feminist persona – and I can't imagine Dapper embarking on a new straight-to-DVD/YouTube video stand-up in which he outlines appropriate relationship behaviour.
He is a modern spectacle – an entertainer whose stage is social media, relying on a specific following of knuckle-swinging lads to laugh at his weak gags about fake orgasms. The longevity of his career relies on his ability to stay in the public eye, lest we forget who to turn to for our daily dose of misogyny.
Yet until now, Dapper had disappeared from view since his ITV2 show, On The Pull, was binned in November 2014. He released a Christmas album, which contained a song where he tells a homeless person they "smell of s**t", to help the homeless. But since all that, he has been MIA. So considering we haven't heard from Dapper for several months, it wouldn't be too presumptuous to suggest he has attempted another comeback. Except this time, the "HA, TRICKED YOU" would be directly at the expense of women.

The problem is that Dapper doesn't appear to have displayed any real sign of remorse about the problems he caused. Since he gained fame, he has shouted at and embarrassed women in the street, readily dispensed advice to "gashless" lads and legitimised the most basic, carnal kind of misogyny that diminishes women to an assortment of holes. Now saying he is a feminist only seems to reinforce that he sees women as a mass of gullible fools who think because he used the F-word, he is a bonafide advocate of equal rights for women.
Even in the interview, he fails to acknowledge the problem with his brand of humour. "I wish I had defended the rape comment a little bit more," he says. "Because that was taken out of context." There is categorically no way a rape joke can be in context. It is the kind of humour that a lad might find hilarious until he has a daughter and realises she might become one of the 85,000 women who are raped in England and Wales alone every year. And until Dapper understands why rape jokes cannot be justified, he will never be a feminist.
The intentions behind his comments are clear. In the dying throes of his career, it appears he needs more publicity to fuel a comeback after he was publicly panned at the end of 2014 – because people realised his misogynistic humour wasn't actually funny. It's not like he has a history of making eye-catching statements for that reason, is it? Not even when he publicly killed off his character on BBC Newsnight, only to revive Dapper a month later with a stand-up tour about erections. Perhaps Dapper will prove me wrong, but I doubt it.