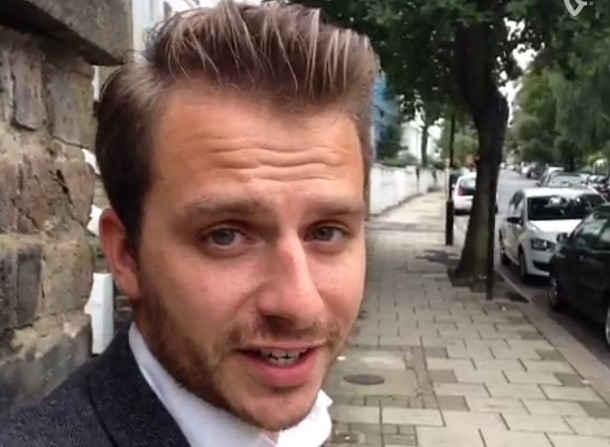 It is unlikely that Dapper Laughs will fade back into obscurity after ITV2 axed his TV programme and his UK tour was cancelled.
Up until a few weeks ago, Daniel O'Reilly and his comedy character were unknown. Now he has fame and, despite an online backlash for a string of offensive jokes, a dedicated following.
Speaking on BBC2's Newsnight on Tuesday night, O'Reilly said he would no longer play the character, hours after it emerged that his UK tour was no more. If there was one consolidating theme to Dapper Laughs, it was that nobody knew who he was or why he was receiving so much attention.
Making his name on Vine, Facebook and other social media sites, the former cruise ship entertainer caused a backlash with his videos offering "lad advice on romancing the ladies and being a geeza". He launched his ITV2 show, Dapper Laughs: On The Pull, in September, which received 37 complaints from Ofcom.
In his clips, he can be seen yelling sexual comments at women in the street or from his car as he drives past. Controversial comments include: "Just show her your penis. If she cries, she's just playing hard to get" and "If she's looking at me and playing with her hair, by the end of the night she'll need a wheelchair."
"It was great at the beginning but it has completely ruined everything for me as a comedian," O'Reilly said on Newsnight. "It's wrecked my life to a certain extent. I don't want to be an advocate for [rape]... I'm going to communicate to my fans that I don't agree, this is why I'm here."
It is clear from O'Reilly's announcement that he has little regard or understanding as to why his brand of sex pest humour received such a negative backlash. According to his critics, his apparent contrition is merely the result of his tour and show being cancelled.
Contrary to his understanding, his career was never great at the beginning, nor has it wrecked his comedy career. It is the opposite. Dapper Laughs gained fame on social media sites, gathering underground supporters. Without the backlash and media frenzy, Dapper Laughs would have drifted into obscurity, shouting over his shoulder about tits, rape and homelessness.
Unacceptable
O'Reilly's single, Proper Moist, entered the UK Singles Chart at number 15 this year. His television programme drew few viewers. Even the idea of a follow-up series seemed improbable. And while it definitely isn't happening now, O'Reilly's terrible brand of misogynistic comedy is far from dead. We have seen the creation of a monster.
"In the Newsnight interview I saw no evidence that Daniel feels sorry for anyone but Daniel," Abi Wilkinson, a journalist for the UsVsTh3m website who brought the Dapper Laughs homeless song to the attention of the wider public, told IBTimes UK.
"I think Dapper Laughs became the face of something all too common that sadly probably isn't going away soon. Not just his style of humour or lad culture more broadly, but a general disregard for women's right to feel safe going about their daily lives.
"I'm glad that the extensive media coverage has signalled that a lot of people find this unacceptable but I don't know how much impact it will have."
For O'Reilly – who told a woman at a live show that she was "gagging for a rape" and whose Christmas album contains pearls of wisdom about urinary tract infections – the future is relatively bright. As well as the potential to "make a comeback" on various seasonal reality television programmes, there will, for now, always be a group of knuckle-dragging types who hail this kind of humour as anti-PC, say-what-were-all-thinking gold.
This sort of abhorrent lad culture isn't going anywhere anytime soon, because some of us in the UK still want it. There is a market for Page 3 and men's magazines, and hordes of women who want to appear in both. It is impossible to scroll down a Facebook news feed without stumbling across a shared Lads Bible post. Rape jokes are so frequently told on university campuses that they don't even raise an eyebrow.
Dapper Laughs has 368,000 followers on Twitter and more than 1.7 million have "liked" his Facebook page. Before his tour was cancelled, he was due to perform at London's O2 arena, The Ritz in Manchester and Cardiff's Students Union. This is how popular Dapper Laughs is.
And while the backlash gives hope that sexist, racist and homophobic humour will not be tolerated by social media -- ironically the platform that launched his career -- this is not the last we have seen of Daniel O'Reilly or his offensive brand of comedy.