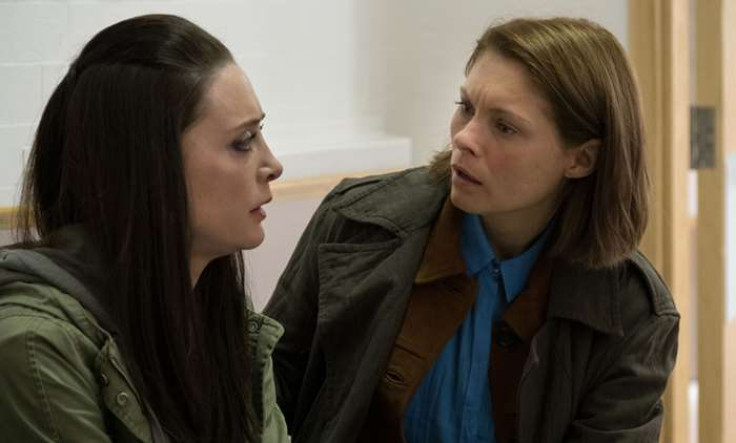 A brand new harrowing television series beings tonight on BBC2, and it's called In The Dark and stars MyAnna Buring.
The first episode follows DI Helen Weeks grappling apprehensively with pregnancy and is compelled to return to her loathed rural home town of Polesford, Derbyshire, with her partner and fellow detective Paul Hopkins.
Meanwhile, two girls have been abducted and the man arrested is the husband of Helen's childhood best friend Linda Bates – who has been drawn into the centre of a media storm while the local police force is under enormous pressure to get their man. Whether he is guilty or not remains to be seen.
The four-part crime drama is adapted by Bafta-winning Danny Brocklehurst from Mark Billingham's books and stars 37-year-old Swedish actress Buring, best known for playing a vampire in Twilight and the seductress from Downton Abbey.
In her grittiest role to date, Buring plays Helen in the series, a detective tackling two very personal cases whilst pregnant. Her character finds herself confronting the past when the husband of her childhood best friend is the prime suspect in an abduction case.
Buring said that, for her role, she researched the physical and emotional effects of pregnancy as well as how someone working in the police force comes to terms with grief and abuse.
Shameless star Ben Batt joins Buring in the drama as Paul Hopkins, her onscreen partner and fellow cop. He is delighted that Helen is pregnant and his excitement at becoming a father is marred by her increasingly odd behaviour.
Speaking about the show, Brocklehurst said of Buring's character Helen: "Her personal story gave her a vulnerability that contrasted with her outer layer. But in bringing her to the screen, I wanted her to have more humour, more immediate warmth, so I wrote her the way Mark had created her but with that extra ingredient," BBC reports.
In The Dark premieres tonight (11 July) at 9pm on BBC2.