Darpa building full-sized, high-speed electric X-Plane following successful test flights
The XV-24A vertical take-off and landing craft could revolutionise airborne military operations.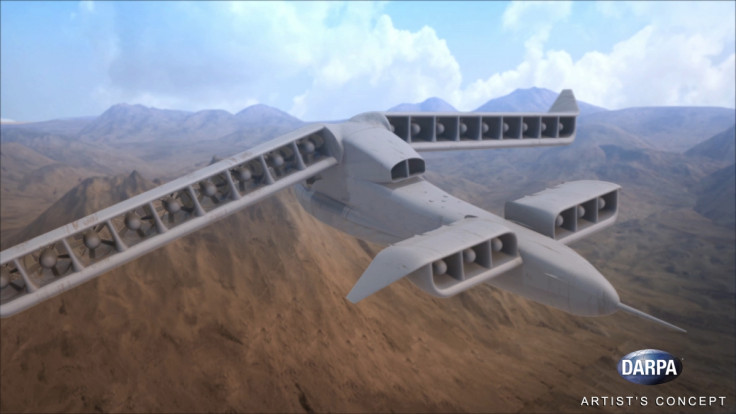 The US Defense Advanced Research Projects Agency (Darpa) has completed test flights of its prototype vertical take-off and landing (VTOL) X-Plane, an experimental, high-speed electric aircraft that can be deployed on missions without needing a runway.
The X-Plane, which is now officially recognised by the US military as the XV-24A, is powered by 24 fan propellers distributed across the wings and tail of the unmanned aircraft, which are driven by a 4,000 horsepower hybrid turboshaft engine.
The tests, which began in March 2016, involved a scaled-down version of the craft. Over the course of six flights, the demonstrator was used to test the X-Plane's flight systems, navigation, manoeuvrability, hovering, navigation and the craft's automatic take-off and landing capabilities.
The tests indicated that future VLOT aircraft would be capable of flying "much faster and much farther" than current hover-capable aircraft, Darpa concluded.
"The VTOL demonstrator was designed specifically to test the aerodynamic design of the aircraft, validate flight dynamics, and develop the flight and mission-systems controls for application to the full-scale vehicle," said Darpa program manager Ashish Bagai.
"The aircraft exhibited exceptional flight characteristics, with no loss in altitude even as it transitioned from vertical to horizontal flight. It also demonstrated aerodynamic effectiveness of the distributed propulsive system."
The final X-Plane will weigh approximately 5,400kg compared to the demonstrator's mere 146kg – and should be capable of flight speeds in excess of 345mph. While this is only a third of the top speeds achievable by a Boeing 747 and a fraction of that of top fighter jets, it is faster than any helicopter currently in operation.
Following the success of the trial, Darpa said it would divert "all ongoing program efforts" toward the development of the full-scale VTOL XV-24A.
Bagai said: "These are ambitious performance parameters, which we believe will push current technologies to the max and enable a new generation of vertical flight operational capabilities."
© Copyright IBTimes 2023. All rights reserved.