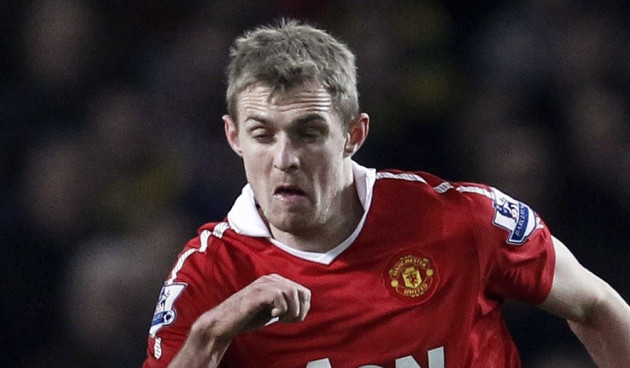 Manchester United legend Denis Law is thrilled with Darren Fletcher's continued recovery from illness with the Scottish midfielder on the verge of making a return to the first team.
The 29 year old hasn't made a first-team appearance since December 2012 but having returned to first-team training has featured in a number of Under-21 matches as an over-aged player and came through 90 minutes against Stoke City at the start of November.
The Scotland captain was an influential presence during Sir Alex Ferguson's days as manager but illness has prevented him from impressing new boss David Moyes, who is hopeful of an imminent return for the five-time Premier League title winner.
"He's had a horrible time, hasn't he?" Law told the club's official website. "He was going to be a key player for Scotland as well as Manchester United. It's awful to have that situation where you're not playing and obviously don't feel well either.
"He is coming back, which is good news, as it's been almost a year now. We all wish Darren the best of luck to come back."
After enduring a difficult summer transfer window, Moyes has turned to the club's academy for inspiration this season with Adnan Januzaj the latest product off the Old Trafford production line.
Januzaj scored twice on his full United debut and having signed a new five-year deal is expected to play an integral part in the club's future.
Ferguson recommendation of Moyes as his replacement was heavily linked to the Scot's commitment to giving academy graduates first team opportunities, with Wayne Rooney and Ross Barkley among those given debuts during his days at Everton and Law is delighted to see a United tradition continued.
"Sir Alex Ferguson always wanted that in the team and he brought through a number of them," Law added. "That is what you want and David Moyes feels the same.
"The base has always been with Matt Busby and the Busby Babes and, even if you have to buy somebody eventually, there should always be youngsters too.
"They often say the young won't win it for you but they will be the basis for years to come and learn from the older professionals. You've got to do that if you're going to have a sustainable team for years. You need the young ones to come in and get experience. If they're good enough, they will stay in the team and you can build from there."