An urgent investigation has been launched in Northern Ireland after a security breach has reportedly leaked details of 'every' prison officer working in the region - alongside an undisclosed number of civil servants and contractors.
First revealed on BBC Nolan Live, and based on an exclusive report by Daily Mirror NI, officials have since confirmed the breach and said the Information Commissioner's Office (ICO) has been informed.
Finlay Spratt, chairman of the Prison Officers Association, said: "I can confirm that every prison officer in the Northern Ireland prison service, as well as contractors and civil servants, were affected."
In a separate statement, a Department of Justice (NI) spokesperson said: "We can confirm that a data incident occurred. However we are confident that no information was compromised. An investigation is ongoing."
According to BBC Nolan, a senior source within the Northern Ireland Assembly said the sensitive information was only sent to one person - however this has not yet been independently verified by IBTimes UK.
According to Belfast Live, which is a regional website owned by Trinity Mirror, personal details of officers - which included names and birth dates - were emailed to an unauthorised third party by mistake.
In response to the news, one government source told IBTimes UK the consequences for those impacted may be severe - and that "hundreds" of people would potentially be forced to relocate homes if the data was leaked into the wild.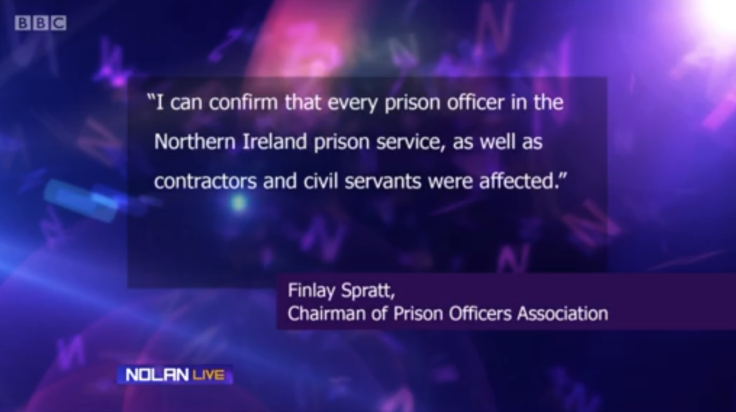 Meanwhile, Claire Hanna MLA, of the Social Democratic and Labour Party (SDLP), reacted to the news by calling it a "baptism of fire" for the recently appointed Claire Sugden MLA, who took the position of justice minister a matter of hours before the news was made public.
"[The incident] is very worrying for the prison officers and their families," Hanna told BBC presenter Stephen Nolan. "They are public servants and are doing a very hard job so hopefully an investigation will find [the data] hasn't gone far."
The potentially damaging news comes after MI5 raised the terror threat level to Great Britain from Northern Ireland from moderate to substantial. In Northern Ireland, the threat is listed as severe. According to the UK Home Office, the decision was made in order to reflect the "continuing threat from dissident republican activity."