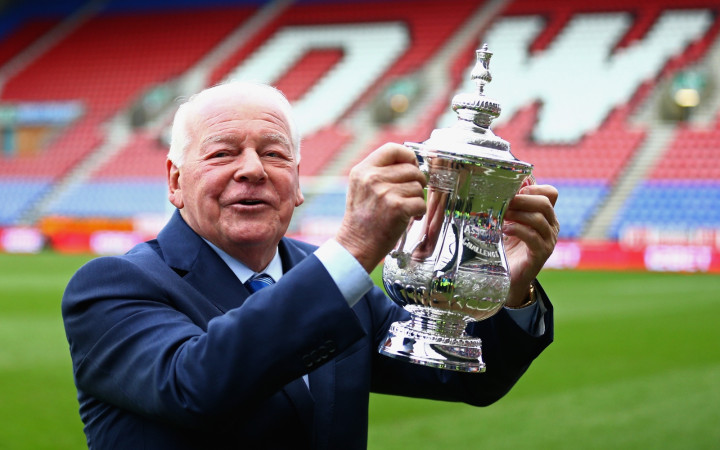 While it may have understandably flown under your radar, Wigan Athletic were celebrating on Wednesday after being named Community Club of the Year at the 2014 North West Football Awards. Step forward, owner David Whelan, who has sufficiently buried that proud merit in a fresh controversy that has marred the game.
In an attempt to defend anti-Semitic and racist comments made by his new manager Malkay Mackay, the Wigan chief bewildered everyone by airing his own anti-Semitic and racist opinions.
Quite why he decided to wade so deeply into the debate regarding Mackay is a mystery. The former Cardiff City manager remains under investigation by the Football Association for his comments that came to light earlier this year. During Mackay's unveiling at the DW Stadium this week, Whelan stressed he was keen to hand out second chances. He should have stopped there.
Instead, he joins his manager in the dock after the FA confirmed he too is under investigation and will inflict more damage on Wigan whose image will undergo a drastic transformation.
While their struggles to fill their modest stadium arguably undermined their Premier League status, Wigan are remembered fondly from their time in the top flight. Under managers Steve Bruce and Roberto Martinez, the club stood by their penchant for a more adventurous game.
This inevitably saw them more often than not flirt with relegation only to summon the drive to dig themselves out of it in vibrant fashion, as they did in the 2011/12 campaign as they rescued their top flight status with an exhilarating run of five wins in their last six games.
That cavalier approach came unstuck the following season but Wigan continued to warm to the neutral with a good old fashioned fairytale FA Cup run in 2013. Against the might of Manchester City, the side from the rugby town came out victorious in the biggest upset since Wimbledon shocked Liverpool 25 years earlier. Their relegation from the Premier League eight days later in a way added to the romanticism of it all.
However, the charm persisted last season under the guidance of Uwe Rosler as Wigan humiliated City in the FA Cup once again in the quarter finals, before holding Arsenal to a draw upon revisiting Wembley. The Championship side ultimately succumbed to defeat on penalties, but left the capital with their heads held high.
That charm and genuine amiability has now evaporated. Whelan's comments panders to the most distasteful of stereotypes which we like to think have become far removed from modern society and from the national game. His 19-year-year association with Wigan ensures the club will be dragged through the mud, along with the owner and the new manager.
Following his comments made to The Guardian, Whelan issued an apology of sorts on Friday. He may as well have not bothered. The Board of Deputies of British Jews has rejected his half-hearted explanation, as have Kick It Out and Chinese communities.
In that apology, he attempted to explain himself but only painted a bigger target on his back, failing to distinguish the difference between the term 'chink' in describing a Chinese person and a British person a 'Brit' as part of his prehistoric outlook.
Whelan's mix of arrogance and ignorance has embarrassed his club. For as long as he is associated with Wigan Athletic, they will struggle to escape the shadow of the mess he has made.