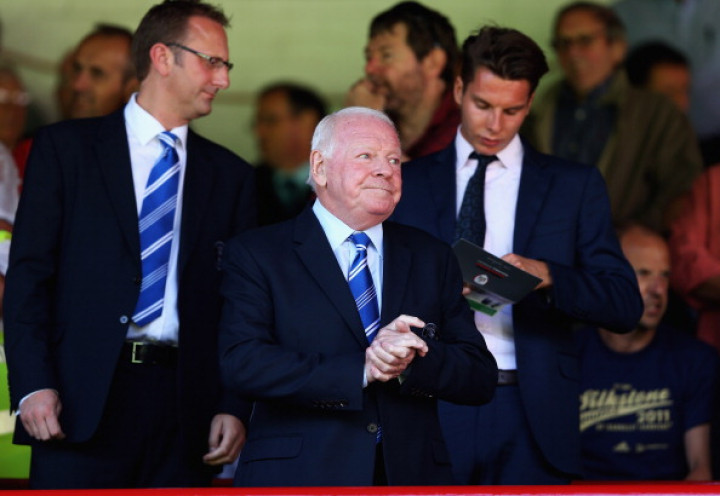 After defending his decision to appoint Malky Mackay as manager of the Championship club, Wigan Athletic owner Dave Whelan has been accused of anti-Semitism, after he told The Guardian that, "Jewish people do chase money more than everybody else."
Mackay is currently in the process of being investigated by the Football Association (FA) for exchanging offensive text messages while serving as a manager at Cardiff City.
In one of his messages, referring to Jewish football agent Phil Smith, Mackay implied that Jews are more troubled at losing money than non-Jews.
Whelan, however, denied the charges in an interview with the Guardian saying:
"The Jews don't like losing money. Nobody likes losing money. Do you think Jewish people chase money a little bit more than we do? I think they are very shrewd people.
"I think Jewish people do chase money more than everybody else. I don't think that's offensive at all."
Simon Johnson of the Jewish Leadership Council has called on Whelan to withdraw his comments saying: "Unfortunately Mr Mackay and now Mr Whelan have referred to some of the worst old-fashioned tropes, which have been used in the past as the basis of anti-semitism and stereotyping of Jewish people.
"Mackay used offensive language to insult a fellow participant in football using a tawdry racial stereotype."
I call on Dave Whelan to withdraw and apologize for his use of disgraceful antisemitic language, reported by @david_conn in #Guardian.

— Simon Johnson (@sjrbsimon) November 20, 2014
Whelan is already facing the consequences of his comments, with the kitchen appliances firm, Premier Range, one of Wigan's shirt sponsors, ending their relationship with the club as announced in a statement on Thursday (20 November).
Premier Range made the move in protest at Whelan's decision to hire Mackay, despite the ongoing FA investigation and described the agreement with the club as "untenable".
FA chairman Greg Dyke confirmed that the probe is still not concluded: "What I don't understand is the chairman of Wigan, when he says he has talked to people at the FA who have said there is going to be no action.
"I don't think that decision has been taken at all. Dave Whelan has obviously talked to somebody but I don't think what he has said is right."