Footballing icon David Beckham was "caught in the crossfire" after details of his alleged expletive-ridden personal emails leaked online following a failed cyber-extortion attempt directed at Doyen Sports, a talent agency with close links to his PR chief Simon Oliveira.
Hackers reportedly accessed 18.6 million messages, documents and images from the servers of Portugal-based Doyen Sports, some of which were from Beckham. In return for their silence, they previously demanded up to €1m from the firm.
"[Hackers] approached by email and attempted to meet via another third party," a source told The Mirror. "They said 'we have all this information and you have to pay up'.
"It was blackmail, pure and simple.
"The investigation has been going on behind the scenes for some time and involved several prominent companies. The hack wasn't targeted at David at all – it was very much a phishing expedition but David has been caught in the crossfire."
The project that obtained and released the data, called Football Leaks, shot to notoriety after exposing an agreement between Holland's FC Twente and investors at Doyen Sports, a revelation that led to high-profile resignations over alleged legal violations.
The latest Beckham email leaks are the latest in a long-running set of disclosures taken from this stolen Doyen Sports dataset. The first murmurs of blackmail attempts were made in January last year by a man using the name Artem Lovuzov, it emerged.
"The leak is a lot bigger than you imagine [...] a generous donation, and you can be sure that all the information I possess will be destroyed," he sent in an email to the firm. "I think something between €500,000 and a million would be a good donation for this material."
At the time, Football Leaks was forced to deny playing a role in the extortion threats. The cache of hacked information was provided to German magazine Der Spiegel and later passed to the European Investigative Collaborations (EIC) network which is now reporting on it.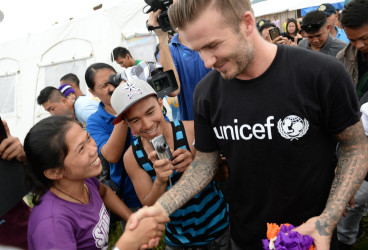 As news of Beckham's leaked emails was splashed across UK media, the former England captain, 41, has reportedly called in the police to help investigate the stolen messages, which alleged Beckham did charity work for Unicef to help secure a knighthood.
In one email, allegedly sent from Beckham to Oliveira, the British government's honours committee, which sanctions who receives individual accolades, are branded a "bunch of c***s". Representatives have claimed such messages may have been "doctored".
Meanwhile, on Friday 3 February, officials from Unicef released a statement in defence of Beckham, saying his fund has helped to "save and change children's lives around the world".
It noted: "Some reports relate to alleged private correspondence between our ambassador and other parties, which we have not seen and cannot comment upon."
A spokesperson for Beckham said: "[His] fund has raised millions of pounds and helped millions of vulnerable children around the world. David Beckham has given significant time and energy and has made personal financial donations to [Unicef].
"This story is based on outdated material taken out of context from hacked and doctored private emails from a third party server and gives a deliberately inaccurate picture."