David Beckham: Email hack alleges knighthood charity scandal but Unicef supports the star
Leaked emails by Football Leaks allege the multimillion-pound star used charity work to secure a knighthood.
David Beckham's private emails have allegedly been leaked by a group of hackers, according to reports. The alleged hacked emails reportedly reveal that the multimillion-pound star used his charity work to secure a knighthood. Reports of the alleged hack also forced Unicef to issue out a statement, supporting Beckham's charity work with the organisation.
The cache of alleged 18.9 million documents was leaked by a group called Football Leaks. The group claims that Beckham admitted in private emails that his charity work was designed to win him the honour. Beckham's representatives reportedly claimed that the emails had been "hacked and doctored," the Daily Mail reported.
According to the tabloid's report, the Football Leaks group claimed that the former football star was outraged when PR advisor Simon Oliveira suggested him to donate one million dollars (£800,000) to a prize-giving Unicef dinner in Shanghai.
Beckham allegedly replied: "I don't want to put my personal money into this cause" and added: "To pour this million into the fund, is like putting my own money in. If there was no fund, the money would be for me. This f****** money is mine."
According to Football Leaks, Beckham wrote, "They r a bunch of c****s I expected nothing less," taking a hit at the Honours Committee in late December 2013. "Who decides on the honors?? It's a disgrace to be honest and if I was American I would of got something like this 10 years ago."
Beckham also allegedly took a shot at Katherine Jenkins, the classical singer who was about to be given the Order of the British Empire (OBE). "Katherine Jenkins OBE for what? Singing at the rugby and going to see the troops plus admiring [sic] to taking coke... F–king joke and if you get asked we should think of a cutting remark."
Upon receiving an invitation to be awarded the sporting "legend" prize by the Premio AS del Deporte awards in Madrid, one of Spanish sport's most renowned honours, Beckham allegedly told Oliviera, "Unless it's a knighthood f**k off."
A spokesperson for David Beckham said: "This story is based on outdated material taken out of context from hacked and doctored private emails from a third party server and gives a deliberately inaccurate picture.
"David Beckham and UNICEF have had a powerful partnership in support of children for over 15 years. The David Beckham 7 Fund specifically has raised millions of pounds and helped millions of vulnerable children around the world. David Beckham has given significant time and energy and has made personal financial donations to the 7 Fund and this commitment will continue long term.
"Before establishing the 7 Fund, David had supported UNICEF and a number of other charities over many years, including donating his entire earnings from PSG during his time playing there.
"David and UNICEF are rightly proud of what they have and will continue to achieve together and are happy to let the facts speak for themselves."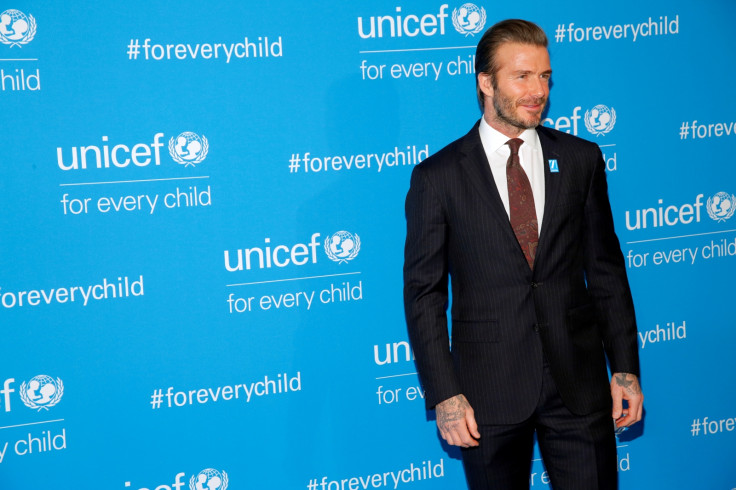 Unicef says Beckham not paid for 'time and commitment'
Reports of the alleged email hack led to Unicef to issue a statement in support of Beckham's charity work with the organisation.
"UNICEF has become aware of media reports relating to 7: the David Beckham Fund for UNICEF. Some reports relate to alleged private correspondence between our ambassador and other parties, which we have not seen and cannot comment upon," the organisation said in a statement.
"David Beckham has been a UNICEF Goodwill Ambassador since 2005, and as well as generously giving his time, energy and support to help raise awareness and funds for UNICEF's work for children, David has given significant funds personally, " Unicef added.
The organisation also clarified that its ambassadors "support UNICEF in a voluntary capacity, receiving no fee for their time and commitment."
© Copyright IBTimes 2023. All rights reserved.