Ex-Manchester United and Real Madrid star David Beckham has been appointed China's first ever global football ambassador. The idea is to leverage Beckham's hugely popular image to improve the flagging image of the game in their country.
Chinese football has been tarnished by the recent match-fixing scandal and the subsequent exodus of international players from China Super League (CSL). In addition, last week FIFA confirmed an extension of bans handed to those found guilty; the sentences have been given a worldwide status.
The 37-year-old Beckham, who has signed with Ligue 1 club Paris St Germain (PSG) after his spell with Major League Soccer (MLS) club Los Angeles Galaxy, has a large fan following in the Far East and he has described his involvement with the game in China as an "honour".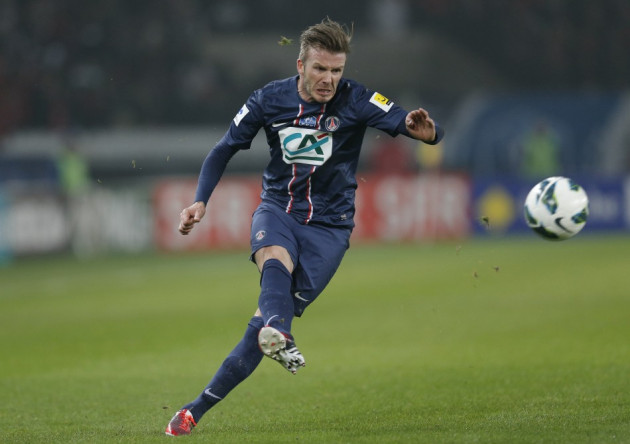 "I am honoured to have been asked to play such an important role at this special time in Chinese football history," Beckham said in a statement released by IMG, "I'm excited by the prospect of promoting the world's greatest game to Chinese sports fans as I've seen firsthand the growing interest in football there. This is a wonderful sport that inspires people across the world and brings families together, so I'm relishing the opportunity of introducing more fans to the game."
Beckham's Role
Meanwhile, an unidentified source from within the Chinese Football Association (CFA) shed some light on the ex-England international's proposed role.
"While in China, he will attend the CSL and visit clubs to get a deeper insight into football in China. He will also help us to inspire and motivate many children to participate in this beautiful game," the source explained.
Chinese Football's Rise and Fall
The successful capture of ex-Chelsea strikers Didier Drogba and Nicolas Anelka, and rumours concerning the possible arrival of another Chelsea star - Frank Lampard - contributed to a lot of excellent press about the game in China. In addition, the summer appointment of World Cup-winning Italian coach Marcello Lippi (by Guangzhou Evergrande) also assured the country of global attention. However, the scandals involving high-ranking officials within the CFA have since tainted the sport.
It is still not known when Beckham will visit China. The midfielder made his PSG debut on 25 February, in a home league game against Olympique Marseille and is available for the club's Champions League knock-out clash against Spanish club Valencia on 6 March.
He could visit the country after that game; the new CSL season begins on 8 March.