David Beckham uses his tattoos to highlight violence against children: Watch the Unicef video here
The footballer is a goodwill ambassador for the UN agency which fights for the rights of children.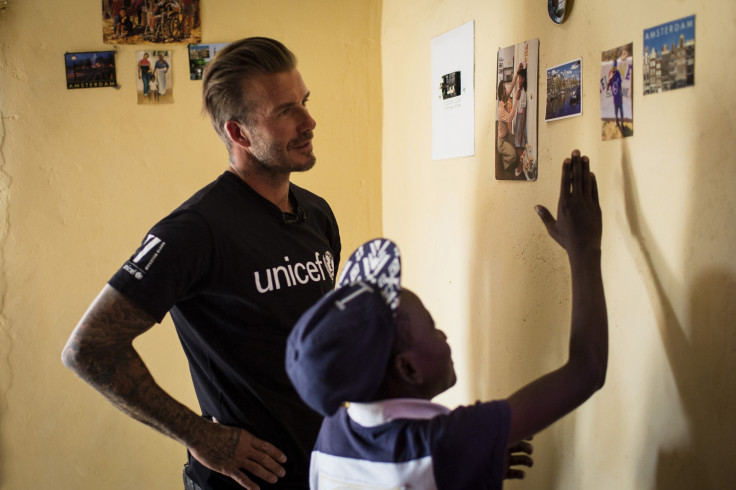 David Beckham's tattoos are almost as famous as his free kicks, and this time around the footballer has used them to shed light on the need to end violence against children. In a new video for Unicef (United Nations Children's Fund), the agency's goodwill ambassador lends his inked body to illustrate the various ways in which children are abused, both physically and psychologically.
During the 60-second video, which was released on 5 December, scenes of violence against children appear as animated tattoos on Beckham's body. The 41-year-old's own tattoos serve as marks reflecting some of the happiest moments in his life and were used to highlight the marks millions of children bear unwillingly.
The animations in the film depict forms of violence that boys and girls endure in spaces where they should be safe – their homes, schools, online and in their communities.
"When I launched my 7 Fund with UNICEF, I made a commitment to do everything I can to make the world a safer place for children and to speak out on issues that are having a devastating impact on children's lives. One of those issues is violence," Beckham said in regards to the video. "Every five minutes, somewhere in the world, a child dies from violence. Millions more are in danger of physical, emotional and sexual abuse that could destroy their childhoods forever."
Speaking about his visit in 2015 to Cambodia with Unicef, Beckham recollected some of the first-hand accounts he heard from children there. "I met and listened to children tell me about terrible violence they have experienced. I was shocked by what I heard and I saw how violence can leave deep and lasting scars. No child should have to endure this," he mentioned.
Stressing the need to take early action towards protecting children who are victims of abuse, Unicef Executive Director Anthony Lake explained the long-term effects it can have on the individual. "Violence and abuse take a terrible toll on children's lives and futures — harming their bodies, undermining their emotional wellbeing, even interfering with the healthy development of their brains."
Watch the complete Unicef-David Beckham video here:
© Copyright IBTimes 2023. All rights reserved.