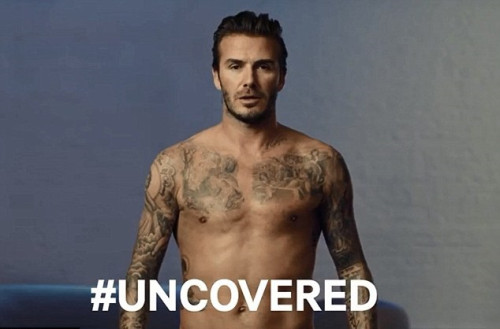 David Beckham will be hotting up the Superbowl with the launch of his latest ad campaign for H&M.
The 38-year-old soccer star strips down to his underwear to promote the David Beckham Bodywear collection.
The

international sex symbol admitted he was nervous about shedding his clothes for the ad.
"It's a little bit daunting. Having it [the ad] at the Super Bowl, it's no bigger and better than that," he explained. "So, it's kind of daunting because obviously there are so many people watching it. But I'm excited to see what people think."
The ad sees Beckham locked out after a photo shoot on the roof of a London building and struggling to get back inside. Dressed only in his underpants, he is seen ziplining across the skyline and racing from roof to roof.
However, that's not all. In keeping with the tradition of the Superbowl for ads that are a little out of the ordinary, the H&M campaign was filmed with two different endings – #Covered and #Uncovered.
The #Covered version of the ad sees Beckham arrive at a photo shoot wearing only his signature H&M boxer briefs. For the second ad, which will be censored for national television, the sportsman strips down completely.
"There are two different endings. I think I know what one is going to end up being shown , which is even more nerve wracking." he said. "Obviously doing it on the rooftop in London for 3 days kind of almost naked was a little bit cold but a lot of fun."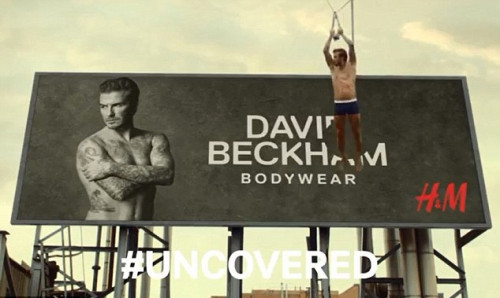 Despite his apprehensions about being seen near naked before a potential global audience of 1 billion, the football star said he had confidence that the Superbowl was the perfect venue for the launch of the campaign.
"I think it's an amazing platform to kick off the launch of the ad and also the new collection.. There's so many millions watching the superbowl around America. Around the world.
"Superbowl ads are renowned for being something viewers are interested in and so that's another good reason for us to show our ad. And I'm a sportsman – a retired sportsman.
"And people know me around America after living there and playing there for seven years so I think it's the perfect start for us to show our new collection and also show the new ad."
The Superbowl will be broadcast live on February 2, 2014.