David Beckham, Sir Elton John, Simon Cowell and the One Direction lads have been named among Britain's most generous celebrities in a new survey.
The Giving List is published by the Sunday Times, and based on those people who feature in the newspaper's annual Rich List.
It shows more than 165 millionaires gave away over £1 million of their personal fortune to good causes in the 2013-14 financial year, while 48 gave away more than £10 million and 20 over £25m.
Sir Elton John is by far the largest celebrity philanthropist, the list shows. The musician raised or gifted more than £24m over the 12-month period, including more than £14m in donations to his Aids foundation in Britain and the US.
Fellow music stars Bono (£8m), Coldplay (£2.8m) and Eric Clapton (£2.5m), as well as X Factor sensations One Direction (£2.1m), also feature in the top 10.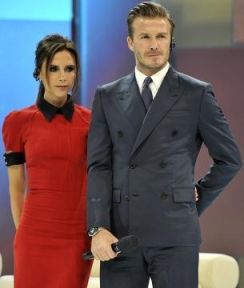 JK Rowling, golfer Colin Montgomerie, money-saving expert Martin Lewis, David and Victoria Beckham and Simon Cowell complete the top ten.
The Beckhams raised £40,000 for the British Red Cross by auctioning their clothes, and David gave away the estimated £3.4m salary he earned while playing for Paris Saint Germain.
The biggest overall giver was the Sainsbury family, headed by David, Lord Sainsbury, who collectively put £165.3m into the family's 18 trusts over the past 12 months.
Successful British entrepreneurs also feature high up on the full list, which is due to be published over the next two weekends.
The engineer and inventor Sir James Dyson gave £8 million to Cambridge University, to fund facilities for engineering students. Assem Allam, owner of Premier League football team Hull City, gave £7m to build new headquarters for Hull York Medical School in Hull.
There is also space for non-British billionaires. Chelsea owner Roman Abramovich and Alisher Usmanov, who owns a large stake in Arsenal, gave away £145.9m and £114.1m respectively.
"It's very important and sends a message to a generation: that when you make money you help others", said John Low, chief executive of the Charities Aid Foundation, which works with The Sunday Times to produce the Giving List.
Celebrities who have donated more than £1m (£m)
Sir Elton John (24.0)
JK Rowling (9.4)
Bono (8.0)
Colin Montgomerie (3.6)
The Beckhams (3.4)
Coldplay (2.8)
Eric Clapton (2.5)
One Direction (2.1)
Martin Lewis (2.0)
Simon Cowell (1.6)
Jamie and Jools Oliver (1.5)
Damien Hirst (1.0)