Ex-David Cameron aide Steve Hilton calls for Theresa May's resignation after London terror attack
The former Number 10 adviser made the intervention ahead of the general election.
A former top aide to former Conservative Prime Minister David Cameron has called for Theresa May's resignation, with just three day to go before the UK general election on 8 June.
Steve Hilton, the founder of technology start-up Crowdpac and a Fox News host, said May should quit Number 10 in the wake of the third terror attack to hit Britain this year.
"Theresa May [is] responsible for security failures of London Bridge, Manchester, Westminster Bridge," Hilton told his Twitter followers. "[She] should be resigning not seeking re-election."
The intervention was partly in reaction to reports that one of the London Bridge attackers, who left at least seven dead and dozens injured in a knife and van rampage on Saturday evening, was featured in a 2016 Channel 4 documentary about jihadis in the UK.
The suspected terrorist, a 27-year-old man from Barking, East London, apparently prayed to an Islamic State (Isis) flag in a park in the capital. The Metropolitan Police have asked for the assailant, who was shot dead alongside two other terrorists, not to be named.
Police have carried out raids in London arrested 12 people as part of their investigation. May, who was home secretary for six years, said that the UK had "far too much tolerance of extremism".
"The whole of our country needs to come together to take on this extremism, and we need to live our lives not in a series of separated, segregated communities, but as one truly United Kingdom," she said.
The major British political parties, apart from Ukip, had suspended their general election campaigns until Sunday evening. Labour leader Jeremy Corbyn then accused May of trying to defend UK streets "on the cheap".
"Our priority must be public safety and I will take whatever action is necessary and effective to protect the security of our people and our country," he said.
"That includes full authority for the police to use whatever force is necessary to protect and save life as they did last night, as they did in Westminster in March.
"You cannot protect the public on the cheap. The police and security services must get the resources they need, not 20,000 police cuts.
The left-winger added: "Theresa May was warned by the Police Federation but she accused them of 'crying wolf'.
"We will recruit another 10,000 new police officers, including more armed police, as well as 1,000 more security services staff to support our communities and help keep us safe."
The row over security and terrorism is expected to dominate the remaining days of the general election campaign, with Labour between one and 12 points behind the Conservatives according to the latest opinion polls.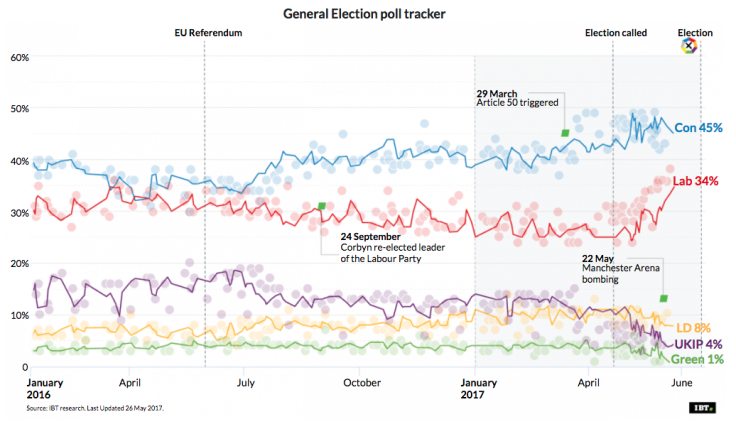 © Copyright IBTimes 2023. All rights reserved.