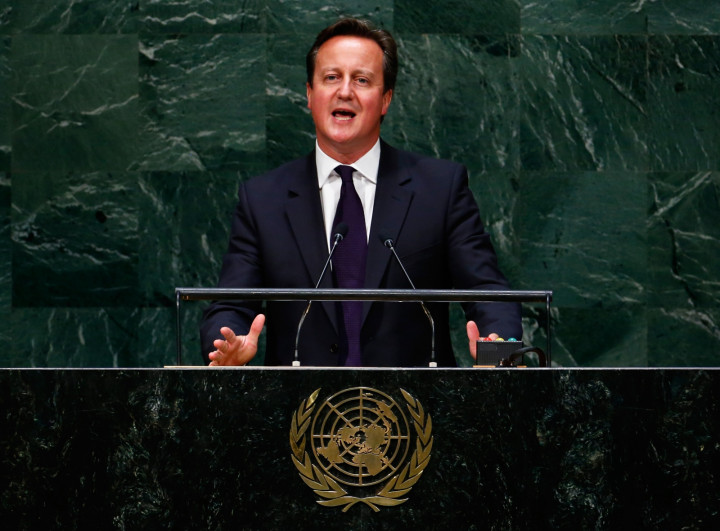 Prime Minister David Cameron has recalled parliament for an emergency debate on military action against the Islamic State [Isis] after the Iraqi government appealed to the UK for help.
"We need to act and we need to act now," Cameron said in his address at the United Nations, adding that a comprehensive strategy was needed to combat Isis, according to Reuters.
"Our strategy must work in tandem with Arab states, always in support of local people, in line with our legal obligations and as part of a plan that involves our aid, our diplomacy and, yes, our military."
Parliament will reconvene on Friday to vote on allowing Britain's Royal Air Force to hit Islamic State targets in northern Iraq.
US President Barack Obama had earlier in his address vowed to dismantle the Isis' "network of death" and gave a clear call for support from allies to fight extremism and join US efforts to establish international order.
While steering clear of any promise of combat forces, Obama promised to equip and train troops in the two besieged nations, including moderate rebels in Syria.
Villages under attack
Meanwhile, Isis continued its plunder and massacre of villages in a Kurdish area in what is seen as intensified assaults in response to the airstrikes. In northern Syria, over 100,000 civilians have fled to Turkey under the onslaught.
US-led airstrikes targeted the Isis-controlled oil refineries in Syria overnight, in attempts to halt the flow of crucial funds to the organisation. Around 13 targets in and around Albu Kamal, the main crossing between Iraq and Syria, were hit.
The absence of strong military allies on the ground is believed to be aiding the militant groups.
"Those airstrikes are not important. We need soldiers on the ground," said Hamed, a refugee who fled to Turkey following the Isis advance.
French President Francois Hollande promised to continue his nation's support as long as necessary, and said he was undeterred by the apparent beheading of a French hostage as retaliation.
With Saudi Arabia, the United Arab Emirates, Jordan, Bahrain and Qatar joining the airstrikes by the US and its allies, the line between supporters of Bashar al-Assad and opponents has thinned.
Syria too has chosen largely to welcome the airstrikes, with its state TV broadcasting Wednesday's strikes against what it described as "the terrorist organisation Islamic State."