David Cameron joins in Sikh festival celebration of Vaisakhi during campaigning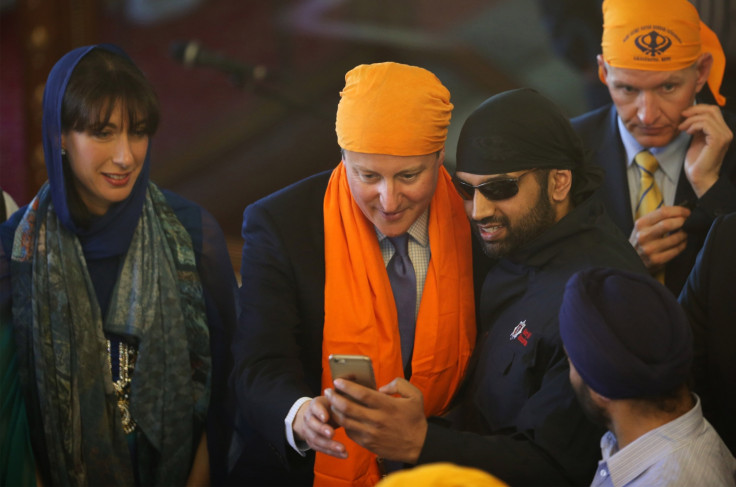 Prime Minister David Cameron joined thousands of people in celebrating the Sikh festival, Vaisakhi in a bid to canvass support from ethnic minority groups.
Cameron was joined by his wife, Samantha on her 44<sup>th birthday during the visit to gurudwara – a Sikh temple – in Gravesend, Kent. The couple were joined by around 3,000 people to celebrate the occasion.
Vaisakhi is a harvest festival and one of the most important dates in the Sikh calendar, as it also commemorates 1699, the year Sikhism was born as a religion and is marked by temple visits, singing, dancing and celebratory parades.
The Camerons' visit was marked by a disturbance, after a Sikh priest objected to political speeches being made at the temple while prayers were continuing.
Cameron donned a traditional orange patka, while Mrs Cameron wore a blue headscarf.
The prime minister joined thousands of people in a parade which carried a holy book to the temple.
"I wanted to make sure Downing Street was part of this too, and I'm proud to be the first Prime Minister to host a Vaisakhi reception at Number 10," he said. "And I'll tell you what – if I'm back there as Prime Minister, I'll keep bringing the community, the colour and the celebrations there, again and again.
"And I'm sure my children will carry on stealing the jalebi [sweets] too!"
Key to election
The Sikh community is poised to play a key role in the 7 May general election, as polls suggest they are the religious community that is most likely to participate in elections.
An estimated 420,000 Sikhs live in the UK. Although ethnic minorities have mostly voted Labour in the past, there are suggestions that members of the Sikh community may vote Tory.
This was Cameron's first visit to Kent during the general election campaign.
Gurjit Bains from the Gurudwara's executive committee said that the celebrations had attracted people from all faiths.
"There are not only people from the Sikh community here, they're from all walks of life," she said.
"We have so many people who are not Sikh coming [to the celebrations] and it's really, really nice to see that."
© Copyright IBTimes 2023. All rights reserved.