David Cameron will tell his new all-Tory cabinet the Conservatives all the "real party for working people" following their majority win at the general election.
The prime minister will meet with his newly constructed Cabinet for the first time following days of appointments and changes, including promoting a number of female MPs.
As well as outlining his hopes for what he described as "blue-collar Conservatism", Cameron will also tell his cabinet of his plans to lower the cap benefits at £23,000 and to introduce a bill increasing free childcare for three and four-year-olds to 30 hours a week.
Cameron will tell the Cabinet: "I want everyone around this table to remember who we're for.
"Every decision we take, every policy we pursue, every programme we initiate, never forget: we're here to give everyone in our country the chance to make the most of their life.
"I call it being the real party for working people: giving everyone in our country the chance to get on, with the dignity of a job, the pride of a pay-cheque, a home of their own and the security and peace of mind that comes from being able to support a family.
"And just as important - for those that can't work, the support they need at every stage of their lives."
Cameron will set out his new government's priorities during his first Queen's speech on 27 May.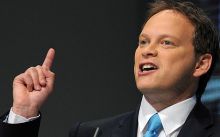 During the Cabinet reshuffle, the most senior ministers held onto their positions, with George Osborne, Theresa May, Phillip Hammond and Michael Fallon all keeping their jobs as chancellor, home secretary, foreign secretary and defence secretary respectively.
Amber Rudd was named as the new secretary of state for energy and climate change, with Priti Patel promoted from a junior role at the Treasury to become the new minister of state for employment at the Department for Work and pensions (DWP). Anna Soulbry has also been drafted into Cameron's cabinet as the new minister of state for small business.
Elsewhere, Sajid Jasvid was named the new business secretary, John Whittingdale as new secretary of state for culture, media and sport and Greg Hands was appointed chief secretary to the Treasury.
Boris Johnson will attend the Cabinet meetings as a minister without portfolio, but focus his attention on his final year as mayor of London.
There is no place in Cameron's new Cabinett for Grant Shapps, who has been demoted from party chairman to international development minister following recent allegations he altered the Wikipedia pages of this political rivals and improved his own to boost his profile.