Former Arsenal vice-chairman David Dein believes Arsene Wenger will remedy Arsenal's Premier League plight by significantly strengthening the Gunners' squad in the summer transfer window.
Without a trophy in eight years, the north Londoners trail leaders Manchester United by 21 points with seven games to go and are not yet assured a place in next season's Champions League.
Dealings in recent transfer windows have been undermined by a string of high-profile departures, with ex Arsenal captains Cesc Fabregas and Robin van Persie having both departed in successive summers while the gap between themselves and the Premier League pacesetters has continued to widen.
But Dein insists Wenger will seek to repair the damage this summer, with a series of high profile signings.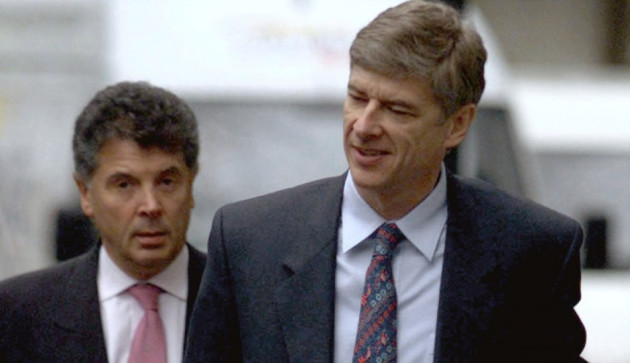 "It's a long hard season and I'm a great supporter of Arsene Wenger I think he's done a great job and continues to do so year on year," Dein told BBC Radio Five Live. "I think he's on course now to get the team to qualify for the Champions League for next season and he does it remarkably well.
"The club is financially very, very strong. Clearly they have fallen 20-odd points behind Manchester United which is not good enough and it speaks for itself that he has to strengthen the team and I know he will do that."
Arsenal's rapid decline has sparked suggestions, refuted by Wenger, that the Frenchman may consider cutting short his contract at The Emirates Stadium which is due to expire in 2014.
But Dein believes Wenger's motivation to succeed at Arsenal continues apace.
"I think he has the fire in his belly," Dein added. "I don't see any reason why he shouldn't be there.
"He is one of the best managers in the world. He has been coaching for thirty years. He knows what he is doing. He knows what he wants and I think it's just a question of identifying the right talent."
Victory at West Bromwich Albion on Saturday helped Arsenal take a significant step towards securing a top four place, with Tottenham Hotspur drawing at home to Everton on Sunday to reduce the gap to two points with the Gunners boasting a game in hand.