News that David Haye's much-discussed return to the ring is to be broadcast on the free-to-air TV channel Dave is sure to have caught fans by surprise. The platform is better known for broadcasting classic British sitcoms, such as Only Fools and Horses and Red Dwarf, than money-spinning sports action.
Indeed, the announcement has already been ridiculed in some quarters, with fans suggesting it's proof Haye is yesterday's man when it comes to British boxing. The perception, it seems, is that the London-born fighter has been usurped by world champion Tyson Fury and Olympic gold medalist Anthony Joshua as the UK's must-see heavyweights.
Here, we take a look at five sporting events – including the Hayemaker's comeback – that have failed to capture the public's imagination.
David Haye's return to the ring
That Haye – a former cruiserweight and heavyweight world champion – has opted to fight Australian Mark de Mori on the free-to-air channel poses a number of questions about his marketability.
Some 13,000 tickets have been sold for the event at The O2 on January 16, according to The Daily Mail. But it's curious the deal has been announced so close to the fight and more curious still is that the former champion won't be appearing on either of the main boxing channels in the UK, BoxNation or Sky Sports.
Terrestrial broadcasters are notoriously reluctant to show fights during their prime-time slots on a Saturday night, reasoning that reality TV programmes and chat shows will draw a bigger audience. But how is it that Haye – one of few so-called celebrity fighters in the UK – is ending his three-and-a-half-year absence from the ring with a fight on the self-proclaimed "home of witty banter"?
Of course, the move will allow the Hayemaker to reach a broader TV audience, but it also points to a fighter whose pulling power may have peaked.
Delhi Commonwealth Games
Despite being one of the world's biggest sporting events, the Commonwealth Games in Delhi, India in 2010 failed to spark the interest of local fans. In fact, the event organisers – who were widely criticised for their lack of planning – had to draft in thousands of schoolchildren and hand out free tickets to the poor in an effort to fill stadiums, The Guardian reported.
A number of events were, in fact, staged in front of a few dozen spectators, much to the embarrassment of Suresh Kalmadi, the head of the Games organising committee.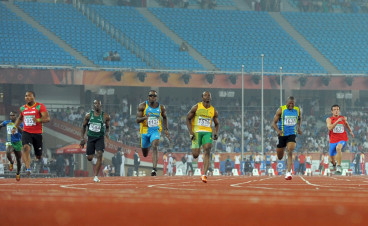 The Games were also undermined by problems with the local transport network, while many fans considered ticket prices to be too expensive, especially as Indian spectators are not used to paying to watch live sport.
These factors – allied to the fact workers receive little time off – meant one of the world's most iconic sports events attracted poor attendance numbers. What's more, a large number of popular athletes, including sprint legend Usain Bolt, opted to skip the Games and instead focused their attentions on London 2012.
Ukraine vs England
England games under Fabio Capello were often drab affairs, but the Three Lions's 2009 qualifier against Ukraine in Dnipropetrovsk attracted less interest than most. The game itself was of little consequence to England, as they'd already qualified for the World Cup in South Africa. However, the fixture represented a landmark moment for sports broadcasting in the UK, because it was shown exclusively online.
The internet-only game, which was won 1-0 by Ukraine, was made available to fans for the sum of £11.99. Rights to the game were initially bought by Setanta, but after the company went into administration, no other broadcaster was willing to fill the void.
The game reportedly attracted around 250,000 subscribers for a total estimated viewing figure of 500,000. By comparison, England's opening fixture of the 2014 World Cup against Italy attracted an audience of around 15 million, according to the BBC.

2007 Cricket World Cup
For many reasons, this was a tournament to remember and a tournament to forget. The ICC's blue-ribbon event was ultimately won by Ricky Ponting's all-conquering Australia side, who produced a stunning display of power-hitting to overcome Sri Lanka in the final.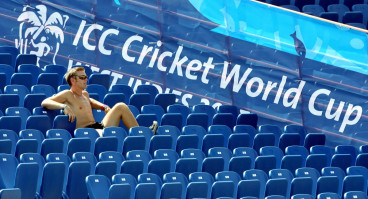 But poor attendance figures, a lacklustre atmosphere and the death of Pakistan coach Bob Woolmer left the game's governing body with much to ponder.
Grounds in the Caribbean are, of course, renowned for the vocal home fans, who use musical instruments and conch shells to create a memorable atmosphere. Similarly, dancing at the boundary edge has become a common site at cricket venues across the region. But under the ICC's instruction, such behaviour was outlawed, leading to a subdued atmosphere inside the grounds.
These problems were made worse by extortionate tickets prices and too much focus being put on attracting foreign visitors.
"The World Cup was not promoted as a West Indian World Cup but as a World Cup for the world. They went for north American tourists so much that they ignored the local population," Caribbean cricket writer Tony Becca told the BBC.
The Qatar Stars League
Even after being named as the host of the 2022 World Cup, it appears interest in football in Qatar remains, at best, lukewarm. The oil-rich Arab country has found itself at the centre of the Fifa controversy in recent months, with football experts lining up to question the voting process that led to Qatar being handed the tournament.
Those issues have been exacerbated by claims local fans are so unimpressed by the domestic competition they are being paid to attend games. Groups of migrant workers – masquerading as fans – have been paid about £5 to attend or had been given free tickets in order to improve the atmosphere at matches, according to The Guardian.
Meanwhile, musicians with drums and pipes had been hired to "create atmosphere" inside the stadiums, which would otherwise be virtually empty.
Michael, a security guard from Kenya, explained to the newspaper: "They are looking for bodies because there is no one to come. The Qataris are not interested. Most are busy and they prefer to watch at home. We earn a minimum amount [in our day jobs] so if you get 30 extra riyals you can feed yourself better."