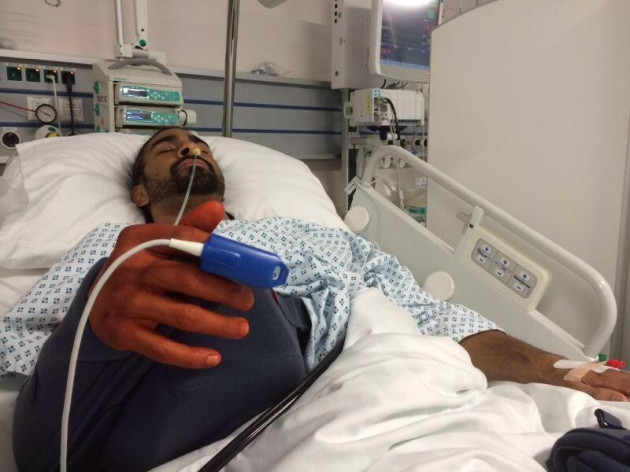 Former British world heavyweight champion David Haye is on the brink of retirement after undergoing career-threatening shoulder surgery forcing the cancelation of his bout with Tyson Fury on 8 February.
The 33 year old underwent five hours of surgery in Germany last Thursday (14 November) to fix subscapularis and bicep tendon damage and has since been advised by doctors to seriously consider retirement from boxing for a second time.
Haye was forced to postpone the originally scheduled fight with Fury on 28 September after suffering a cut above the eye during training a week before but this latest injury is expected to draw a definitive end to his 23-year professional career.
"I genuinely believed the shoulder injury wasn't that bad," Haye told his official website. "But the doctor sent me for a detailed MRI scan and within 24 hours I was told the full extent of the damage. Twenty-four hours after that I was in the operating theatre.
"It's a crushing blow for me. I had big plans for next year and the ultimate goal was to win back the world heavyweight title, something my amazing fans deserve.
"What I didn't anticipate was that this year would be the unluckiest of my career and that a number of injuries would disrupt my plans so much. Perhaps it just wasn't meant to be. The boxing Gods keep hinting that maybe enough is enough and that it's time to finally hang up my gloves."
"The surgery and subsequent results are a bitter pill to swallow because I truly felt I had a lot more to offer and was looking forward to paying back my loyal fans with some great fights in 2014," he added
"But I've been boxing for 23 years now, amateur and pro, and this has clearly taken its toll on my body. "I can only offer my sincerest apologies to all those fans who have followed me over the years and, like me, wanted to finish on a real high. This wasn't how I wanted to end 2013.
"If I'm now destined to have won the European Championship, the Unified World Cruiserweight Championship and the WBA Heavyweight Championship of the world - with a record of 28 fights, 26 wins, 24 victories coming via knockout and only two defeats - then so be it. I'm proud of these achievements and consider my boxing career a huge success."
The former cruiserweight champion had originally announced his retirement in October 2011 before fighting fellow-Brit Dereck Chisora in July last year.
The fight with Fury, the unbeaten British heavyweight, is the second Haye has forced to cancel in 2013 after pulling out of a proposed meeting with Manuel Charr with a hand injury.
The Fury camp are reportedly seeking legal damages after the bout was called off for a second time, and uncle and trainer Peter Fury says the cancellation comes as no surprise.
"Ever since the last minute cut, we knew something was amiss with this fight," he told World Boxing News. "We then asked for clauses to go in the new contract to address and cover pull-outs for damages, but this was refused by them. In my view, that is hardly someone pushing to keep the fight on track.
"Then we agreed, but only but not letting them have their way as really they hoped the new contract wouldn't go ahead and we would demand the clauses.
Since the cut and new contract being signed, Haye's camp have been totally silent with Mick Hennessey after he tried a number of times to make contact without a reply.
"Also, this latest action is the only way that they can get out of this contract, which they obviously know."
Taking to Twitter to react to Haye's withdrawal, Fury, 25, wrote: "This is what I always said would happen. I must have special powers to see the future."