Chelsea Samba Stars Will Have No Room For Sentiment Against Former Club
Chelsea duo David Luiz and Ramires await a reunion with Benfica this week, but the Brazilians will have no qualms in putting the club who brought them to Europe to the sword in their quest for silverware.
Rafa Benitez's side will take on the Portuguese giants in the Europa League final on Wednesday at the Amsterdam Arena, and for Ramires and Luiz the occasion will also mark their first encounter against their former employers.
The 26-year-old Ramires spent a season with the Eagles before his spirited performances attracted the attention of the Blues. Six months later, the Premier League club were back for his fellow Brazilian Luiz, paying a reported £38 million to bring the duo to London.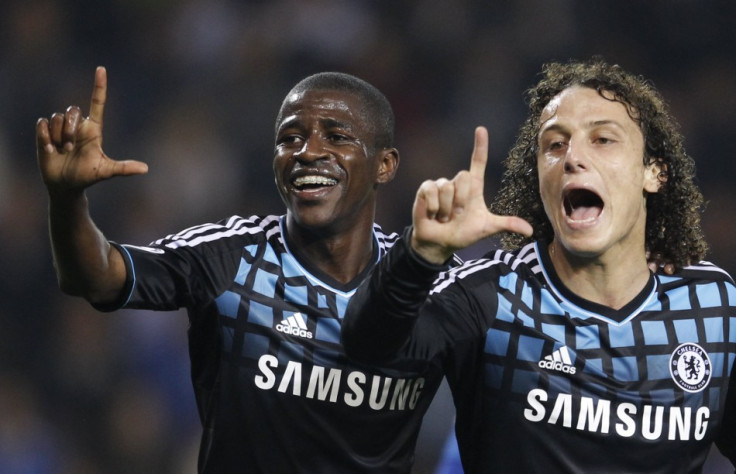 But while the Selecao stars are grateful for the impact Benfica has had on their careers, there will be no room for sentiment in Amsterdam.
"I have a lot of affection for Benfica when they are playing in their own competitions, but on the pitch I am a Chelsea player and I don't want to think about Benfica or anybody else," Ramires told ESPN.
"Before the game, you talk to everybody and joke with your friends, you wish them well because they are your opponents, but once you start playing your mind is only on the game, you don't remember anything else."
"In this final I will be doing everything I can for Chelsea to win, and it's easier to separate these feelings. Whoever is in your way, it doesn't matter."
Newly established midfielder Luiz will also have little time for nostalgia when he lines up against his former teammates, something fuelled by Chelsea's need to procure a trophy having failed in two previous finals, and two semi-finals this season.
The Blues were thumped 4-1 in the final of the UEFA Super Cup by Atletico Madrid last year, and have also succumbed to defeat to Corinthians in the Fifa Club World Cup.
"If you look at this season, we've lost three finals, so now we have a moment when we have another opportunity to win a title, a big title," Luiz told UEFA's official website.
"Everyone knows that I have Benfica in my heart, but when you start the game, you forget everything. I want to win with Chelsea, I want to win this title."
Ramires' arrival at Stamford Bridge in 2010 sparked the growth of a Brazilian contingent in southwest London. After Luiz's arrival the following January, the duo were soon joined by Oscar and Lucas Piazon, who is currently on loan to Malaga. The quartet will be joined by another compatriot in the dressing room this summer in Wallace Oliveira, who will join the club from Fluminense this summer.
© Copyright IBTimes 2023. All rights reserved.