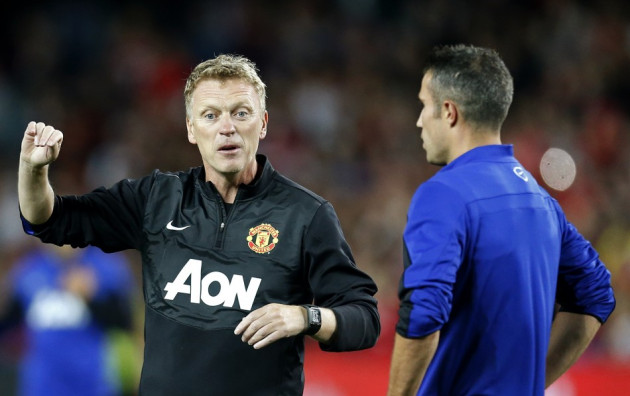 A leading Dutch coach who has worked with some of Europe's biggest clubs has aimed disdainful criticism at Manchester United manager David Moyes over his handling of Robin van Persie's fitness.
Former Wales assistant manager Raymond Verheijen, who has worked with European clubs including Barcelona, Zenit St Petersburg, Chelsea and Manchester City was riled when Van Persie was taken off during United's 3-2 defeat to Yokohama F Marinos on Tuesday after suffering a thigh strain.
Moyes maintains the decision to substitute the United striker was merely a precaution, but Verheijen has placed blame firmly at the feet of the Scot, accusing him of needlessly overworking the Dutch striker.
"In Sydney Moyes said: 'We overtrained Robin this week to build up his fitness,'" Verheijen said through his Twitter account. "Tonight he picked up a muscle injury. It really makes you wonder how these pre-historic training methods can still take place at the highest level.
"The only way to solve this problem in Jurassic Park is improve education of these dinosaur coaches, fitness clowns and scientific cowboys. But as long as most dinosaurs are still in denial and ignore how things develop in other countries, nothing will ever change in Jurassic Park.
Obviously players like RVP should learn to protect themselves better against 'overtraining' & 'punishing training.' Hopefully next generation coaches who do want to make a change in Jurassic Park will get a bigger podium so we get rid of old boys network."
In Sydney Moyes said: We've over-trained Robin this week to build up his fitness'. Tonight he picked up muscle injury http://t.co/tenigZFEbr

— Raymond Verheijen (@raymondverheije) July 23, 2013
The outspoken Verheijen has a history of chastising British coaches and their training methods, particularly when the former Everton manager was named as Sir Alex Ferguson's successor in May.
He tweeted in May: "The dinosaur of all dinosaurs get a 6 year (!) contract to manage on of the biggest clubs in the world. Only possible in Jurassic Park."
The former Wales assistant also attacked the England national team during Euro 2012, branding the set up's training regime as amateurish and prehistoric after Frank Lampard, Gareth Barry, Ashley Young and Phil Jones all suffered slight injuries in a 1-0 win over Norway.
The coach was also a vocal critic of former Manchester City manager Roberto Mancini, labelling the Italian's treatment of Welsh international Craig Bellamy as "disastrous."