When Roger Draper stood down as the Lawn Tennis Association chief executive in March, it was far from short-sighted to regard his only legacy as delivering Great Britain's first male singles grand slam winner for 76 years.
Sliding participation figures, a 10% decrease since 2008, coupled with his £640,000 salary drew regular scrutiny and reduced funding from UK Sport and despite the rapid improvement of the women's game, Andy Murray remains the one male into the top 200.
But accusations of limited success may require a reassessment after Britain, led by captain Leon Smith, capped a remarkable Davis Cup turnaround with victory over Russia, having been on the brink of relegation to the basement group of the competition upon his appointment by Draper in 2010.
Wins for world no.214 James Ward and world no.325 Dan Evans against established top 100 players in Dmitry Tursunov and Evgeny Donskoy helped Britain stage their first comeback from 2-0 down since 1930; with Smith having guided GB to within one tie of the World Group once again.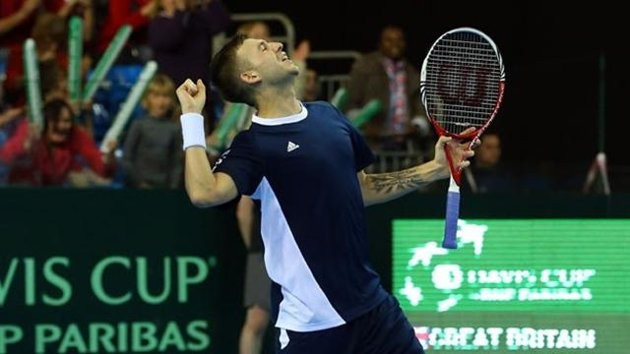 "I think it's outstanding and I think it's one of the best things I've seen during my time in British tennis," Smith said.
"It was a surprise to a lot of people when I was given the opportunity but we've gone about it my way, our way and I really enjoyed being part of this set-up."
Britain will welcome back Murray for the play off in September, but the performances of Ward and Evans offered evidence of Smith's motivational skills and now provide him with a selection headache come the Autumn.
The pair, boosted by the doubles win delivered by debutant Jonny Marray and Colin Fleming on Saturday, came of age in Coventry. Ward, who has sporadically threatened to establish himself as the No.2 to Murray, continued his decent form on British shores, something he must now repeat abroad, while Evans came alive once again on the biggest stage.
The 22 year old was a late replacement for Jamie Baker, and having claimed two rubbers, including the decider against Slovakia last February, the Birmingham born player was tailor made for the pressure-filled situation on Sunday evening. Should his commitment to the sport match his undeniable talent, then expect Evans to soar up the rankings in 2013.
"We want competition for places when Andy is playing and when Andy is not playing it's a healthy situation," Smith added.
You would have been forgiven for thinking that despite the tie taking place in a wing of the Ricoh Arena, with black curtains, temporary seating and non-existent television coverage that there remained scant interest in British tennis, not least the Davis Cup, outside of the higher echelons of the rankings.
That much may be true, but Smith is ensuring that if people are going to sit up and take notice of a British team who represent the best chance of winning the Davis Cup for over three decades, they'll be doing it while they occupy the top table in world tennis.