Davos 2016: David Cameron to issue call to businesses to support EU membership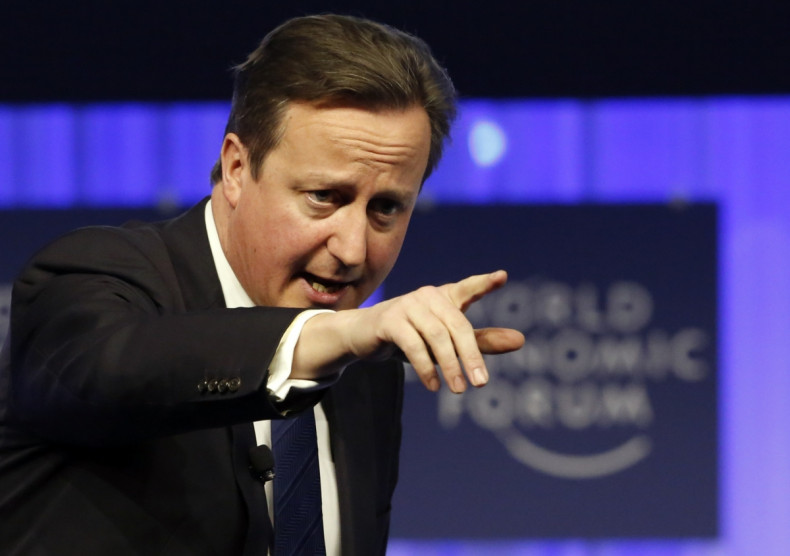 David Cameron will shift the focus of his EU renegotiations from curbing migrant benefits to reducing Brussels red tape at the World Economic Forum (WEF) in Davos. The prime minister leader will appeal to business leaders on 21 January to support Britain's continued membership of a reformed union.
A referendum on the UK's membership of the EU will be held before the end of 2017 and Cameron will tell world and business leaders that it signifies "a once-in-a-generation moment and the stakes are high". He will ask businesses to back his drive to keep the UK in the EU under renegotiated terms and remind them that "many of the reforms we are seeking are things that they have called for" to ensure stronger competitiveness, which is one of Cameron's four pillars of negotiations.
On 20 January, it was reported that US investment bank Goldman Sachs had donated hundreds of thousands of pounds to prevent a Brexit and keep the UK in the EU. The contribution was given to the Britain Stronger in Europe campaign, according to Bloomberg. James McGrory, a spokesman for the group, said: "At this stage, we are pleased that we have gathered donations from a wide range of individuals and businesses who believe that Britain is stronger, safer and better off in Europe."
The prime minister is hoping to finalise a number of reforms at an EU summit in February, according to a BBC report. "The voice of business must be heard in Britain and across the whole continent," Cameron is set to say. "If you want a more competitive Europe, where the single market is completed, where there are more trade deals and fewer regulations: join me in making that case.
"If you believe, like I do, that Britain is better off in a reformed European Union, then, when the time comes, help me make that case for Britain to stay." The EU, which consists of 28 member states including the UK, is London's biggest trading partner.
In 2015, Business Secretary Sajid Javid took a swipe at the Confederation of Business Industry (CBI), saying it was wrong for the body to come out and say it was in favour of the UK staying in the EU. The Eurosceptic MP compared the CBI to a poor poker player who revealed their hand too early.
"You're some of Britain's most respected, most successful business leaders," he said in June 2015. "You know how negotiation works. You wouldn't sit down at the start of a merger or acquisition and, like a poker player showing his hand to the table, announce exactly what terms you were prepared to accept. It doesn't work in the boardroom and it won't work in Brussels."
The latest twist in the ongoing migrant crisis is also likely to be high on the agenda for Cameron's Davos discussions, with the UK set to reject any attempt to change the Dublin Regulation, which requires refugees to claim asylum in the first country they enter in the European bloc.