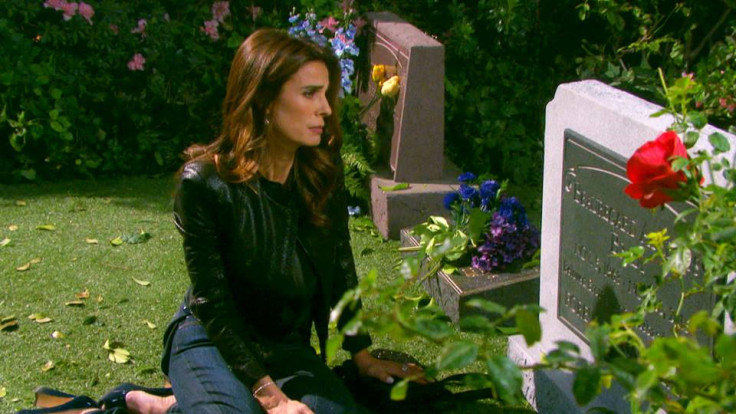 Kristian Alfonso's character Hope Williams has witnessed a lot of twists in NBC's drama series Days Of Our Lives. But it seems like nothing could have prepared her for what is about to come. According to Alfonso, she was "scared to death" by the prospect of taping this Wednesday's episode (number 182), where Hope will reunite with people from her past, to decide the course of her future.
The actress told TV Line, "I called it the Scrooge episode, because Hope goes to the Horton cabin to think without any distractions and just breathe, and, of course, as soon as she exhales, she's visited by many people."
Hope will be reunited with her dead husband, Bo Brady, played by Peter Reckell whose character died of brain tumour in 2015. The 52-year-old actress spoke of an emotional reunion between the two and shared, "Just imagine that you were given the opportunity to feel like you could hold someone that you loved so deeply and so purely one more time — there are no words to express" Bo and Hope were considered one of the show's most iconic couples.
"There are certain moments in this episode that I felt were so Bo and Hope," she said. Hope will also be reunited with several other characters, including, Stefano, Larry, and Zack, the son she and Bo lost in a hit-and-run accident.
Will these reunions help Hope resolve her dilemma – whether to start over with Aiden who recently returned from the dead or take a chance with her new lover Rafe. Alfonso explained, "I don't know if [she leaves with] a clearer picture of what her game plan is, but something within her steadies her being. She comes away with some strength to stand up, travel the distance and not be afraid."
The show is currently in its 51's season, and episode 182 will air on 8 June, at 1pm ET/PT on NBC Network. The plot description released by the network reads as follows: "Hope turns to her past to help her through an emotional time".