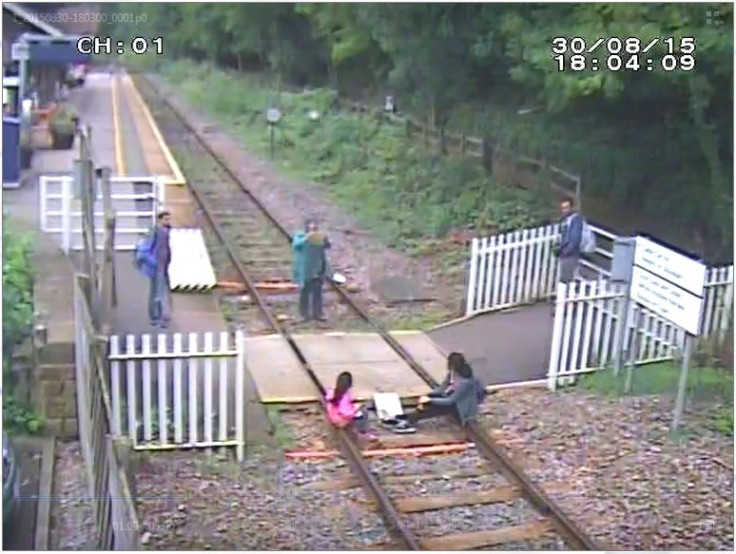 Network Rail has issued a warning after CCTV footage captured adults and children sitting down on train tracks to take selfies. The rail network owner said that they had captured eight incidents of "dangerous behaviour" in one day on a railway crossing in Derbyshire and were appealing to people to take caution.
The CCTV footage shows adults and children taking selfies on the tracks near Matlock Bath station, as well as people speaking on the phone while walking along the tracks. Network Rail said one incident saw a group of up to ten people, including a toddler, standing on the railway for more than eight minutes as they took photographs and chatted.
"The photos captured are extremely worrying," said Inspector Eddie Carlin from British Transport Police. "We are really concerned someone is going to get seriously injured or killed at the crossing. I have had to tell devastated families that their loved ones are not coming home due to incidents such as this and it's heartbreaking."
Network Rail has confirmed that they have increased patrols in the area. They are also looking to speak to the people pictured in order to "reinforce concerns about reckless and dangerous behaviour". Those who may recognise the individuals are encouraged to contact them with information. They have also appealed to the public to contact the British Transport Police if they witness "misuse" at railway crossings.
The Network Rail warning comes one month after selfies were said to have become more deadly than sharks. Science Alert reported that 12 people had been killed in selfie-related accidents in 2015 so far. Earlier this year a report published by the Institute of Advanced Motorists also revealed that 1 in 11 motorists in Britain have taken selfies while driving.
In January research conducted by the Ohio State University revealed that men who post selfies were likely to score higher on measures of narcissism and psychopathy, with higher levels of anti-social traits. The research stated that "psychopathy involves a lack of empathy and regard for others and a tendency toward impulsive behaviour", which could encourage people to put their lives in danger for the sake of looking good in a photograph.
"With the growing use of social networks, everyone is more concerned with heir appearance," said Jesse Fox, lead author of the study. "We know that self-objectification leads to a lot of terrible things, like depression and eating disorders in women."