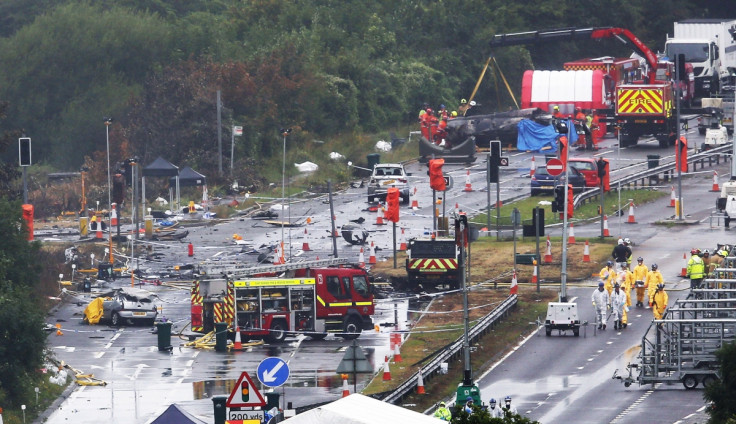 Two police officers who filmed "inexplicable" selfies containing an offensive message at the site of the Shoreham air crash, which killed 11 people, have resigned their positions and are now subject to an investigation.
The Brighton-based probationary officers, aged 23 and 24, had been suspended from their duties after they posed for selfies next to a cordon at the scene of the disaster on the A27 on 22 August. Sussex Police received a recommendation that the pair be investigated for their inappropriate behaviour and should be dismissed.
The officers appeared before Assistant Chief Constable Robin Smith, who made the recommendation on 30 September. He assessed the evidence and submitted a detailed report to the Chief Constable this week.
Chief Constable Giles York said: "We, along with the public, expect the highest standards of professional behaviour. An investigation has taken place and I am reassured that Sussex Police has responded promptly and fairly.
"The men, who have less than two years' service, are clearly remorseful and have acknowledged the impact of what they had done; but when it really mattered the officers failed to show understanding and compassion for the victims and their families. I am confident that they would not go on to become well-conducted officers.
"The police service has a national code of ethics that we expect officers and staff to abide by – including showing respect and courtesy. Officers and staff can be forgiven for making genuine mistakes, but the behaviour of these two officers was inexplicable and caused unnecessary distress to the families of those involved, for which we sincerely apologise."