Delhi Gang Rape: Court Begins Private Hearing as Suspects Arrive
Court proceedings were slightly delayed.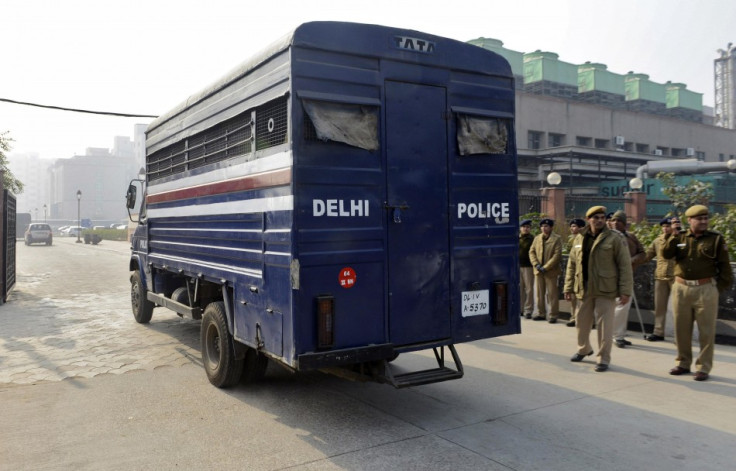 Five of the accused in the rape and murder of the 23-year old medical student in New Delhi have appeared before the special fast-track court, for a court-approved private hearing (in camera) requested by the public prosecutor.
The order was followed by drama in the court, as two lawyers reportedly came forward to offer a defence for the suspects, against the decision of the lawyers' association.
The suspects were not brought to the courtroom until the protests subsided, although the five accused were scheduled to appear at 12.30pm IST (7am GMT). The accused were brought to the court amid tight security.
The procedures were delayed after a group of lawyers and activists protested outside the court premises.
All the people who are not connected with the case have been removed from the courtroom in order to proceed with the hearing.
The in-camera hearing has been approved in order to provide security for the accused and also to protect the identity of the victim.
The magistrate said, "An unprecedented situation arises when members of bar and public persons not connected with the case also have started converging the courtroom No 207 where the present matter is going on since 12 noon.The courtroom has become jampacked with lots of disturbance created from different nooks and corners. It has become impossible to proceed in the case. I am passing order for in-camera proceeding. It shall not be lawful to print and publish any article in media without court permission."
The accused are likely to be given copies of the chargesheet as the court will later shift the case to the Sessions Court which will hold the hearing on a day-to-day basis.
Two of the six accused have also reportedly sought to become witness in the gang-rape incident in a bid to avoid severe punishment.
Meanwhile, the school principal of the alleged juvenile perpetrator is also likely to be produced in front of the Juvenile Justice Board in order to verify suspect's age.
Should the suspect's claim be upheld, he will likely receive no more than a three-year jail term (the maximum allowed for a minor) despite the fact he was believed to have been the most brutal of the attackers.
© Copyright IBTimes 2023. All rights reserved.