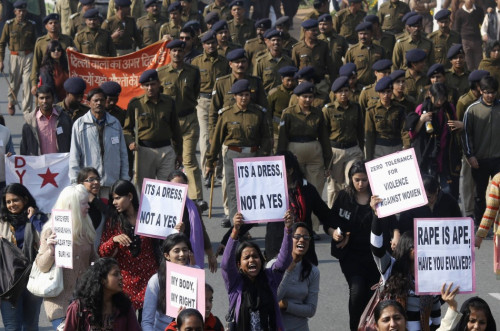 A female politician in India has shocked people across the country after saying the Delhi student who was gang raped and murdered was to blame for the attack.
Asha Mirje, a Nationalist Congress Party leader in western Maharashtra state, said the 23-year-old was to blame for her rape and murder because she should not have been out so late at night.
Following her death in December 2012, there were mass protests over violence against women in India. She was raped and beaten for hours and died of massive internal injuries after being penetrated by a rusty metal rod and thrown from the bus naked.
Since her death, the word Nirbhaya, a Hindi word meaning fearless, has been adopted by Indian media as the name of the victim.
Speaking at a meeting, Mirje said: "Did Nirbhaya really have go to watch a movie at 11 in the night with her friend?"
She also said the photojournalist who was gang raped while on an assignment in Mumbai last year should not have been in such an isolated place. "Why should a photo journalist in Mumbai go to an isolated place like Shakti Mills at 6 PM? Girls should always remain alert?
"Rapes take place also because of a woman's clothes, her behaviour and her presence at inappropriate places," she said, adding women must be careful and think about if they are inviting men to assault them.
"Girls should be very careful about what they wear and at what time they move out in city. Their body language should not invite attention of the potential rapists lurking around in the streets."
Following her speech, several media outlets condemned her comments. Kavita Krishnan, secretary of the All India Progressive Women's Association, a lobby group, told Reuters: "Every time such a statement is made by a public figure it justifies rape. It's unconscionable that people in public posts make such remarks.
"Mirje is reflecting what is a much larger problem. There are many others who hold such views."
Mirje later issued an apology for her comments, saying they had been inappropriate, the Deccan Chronicle reports.