Demi Lovato followed Michelle Obama's lead and delivered a powerful speech at the Democratic National Convention. The Heart Attack singer opened up on her battle with mental illness before endorsing Democratic Party nominee Hillary Clinton at the Philadelphia convention ahead of the US presidential election.
Addressing the DNC 2016 audience at the Wells Fargo Center on 25 July, Lovato stated the need for increased medical support for those suffering from mental illnesses. The US singer said: "Like millions of Americans, I am living with mental illness. But I am lucky. I had the resources and support to get treatment at a top facility. Unfortunately, too many Americans from all walks of life don't get help, either because they fear the stigma or cannot afford treatment."
She continued: "Untreated mental illness can lead to devastating consequences, including suicide, substance abuse, and long-term medical issues. We can do better. Every one of us can make a difference. By getting educated on this epidemic and its frightening statistics and by breaking the stigma, I urge every politician to support laws that will provide access to better health care and support for everyone."
Lovato, 23, has received treatment for anxiety, bipolar disorder, substance abuse and eating disorders in the past. The Cool For The Summer singer revealed that she has been working with a treatment centre to provide support for those who are battling similar issues. Lovato explained: "This is not about politics. It's simply the right thing to do. I'm doing my very small part by having the treatment centre that saw me through my recovery on tour with me so that at least a small group of people, even for a brief moment, have the same support that I received."
After declaring that it is possible for those living with mental illness to fulfil a "normal and empowered" life, Lovato then showed her support for Clinton. The singer said: " I'm proud to support a presidential candidate who will fight to ensure all people living with mental health conditions get the care they need to live fulfilling lives. That candidate is Hillary Clinton. Let's make her the next president of the United States of America." After the speech, Lovato went on to perform her 2015 single Confident, lifted off the album of the same.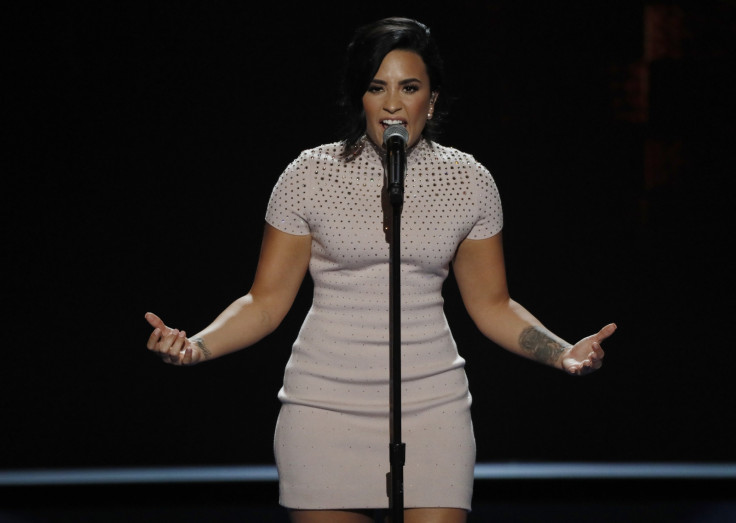 Lovato has been an advocate for Clinton throughout the presidential election bid and attended a rally for the Democratic politician in Iowa in January 2016. The former Disney star said at the event: "I don't think there's a woman more confident than Hillary Clinton... I couldn't be more thrilled to be here in support of her. The person that is about to walk on this stage, not only am I voting for because of her beliefs, her strength and the fact that she completely embodies the concept of women empowerment."
Detailing her mental health struggles and her realisation that she needed treatment, Lovato told Elle in 2015: "I knew at a young age that some of my behaviours were a problem. When I was bulimic, I knew it was a problem. When I was anorexic, I knew it was a problem. But I wasn't in a place where I could quit by myself."
Watch Demi Lovato deliver her speech and perform Confident at the DNC 2016: