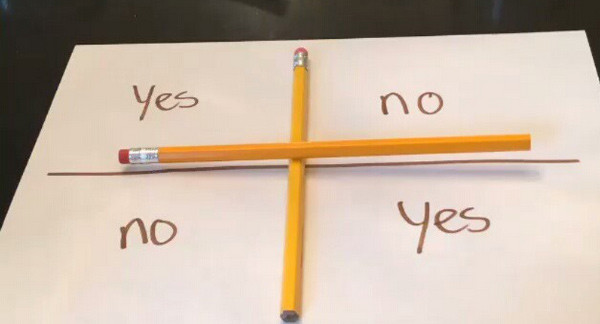 The devil take Twitter. That's what seems be happening with the new viral Twitter "game" #charliecharliechallenge.
The ouija-board-like game involves "summoning" a supposed Mexican demon by crossing two pencils and writing "yes," "no" and then "no," "yes" in the four squares that are formed. Players then ask, "Charlie, are you here?" or something similar. if a pencil rolls toward a "yes," players then ask Charlie some more specific questions and see how Charlie responds.
Players are getting carried away by the "presence," triggering a volcano of tweets and videos about their creepy experiences. And they can't stay away. In a single 48-hour period more than 2 million people used the hashtag.
One problem: There doesn't seem to be any known Mexican spirit or demon called Charlie, reports a BBC Mundo reporter. "Mexican legends often come from ancient Aztec and Maya history, or from the many beliefs that began circulating during the Spanish conquest," says Maria Elena Navez. "In Mexican mythology you can find gods with names like 'Tlaltecuhtli' or 'Tezcatlipoca' in the Nahuatl language. But if this legend began after the Spanish conquest, I'm sure it would've been called 'Carlitos' [Charlie in Spanish]."
"Mexican demons are usually American inventions," she adds.