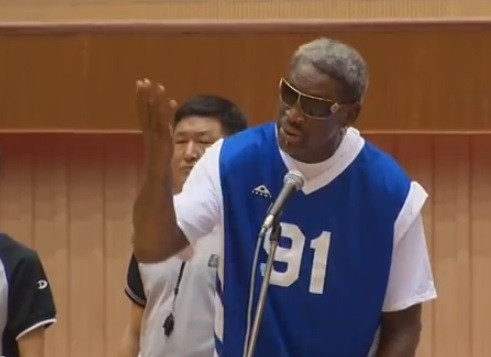 Dennis Rodman gave dictator Kim Jong-Un a birthday to remember by serenading him and then losing a basketball game against a select North Korean team.
Before the high profile match began, Rodman sang 'Happy Birthday' to Kim, while the well behaved audience inside the Pyongyang Indoor Stadium clapped along.
The former Chicago Bulls player completed the scene by bowing deeply to Kim, his wife and assembled top officials from the regime.
A team comprising former NBA professionals then performed laughably badly on the court, on their way to being soundly beaten by opponents from the Stalinist 'People's Paradise'. It seemed the outcome of the game was a foregone conclusion - just like many of the trials held inside the secretive state reportedly are.
The game was the centrepiece of Rodman's fourth visit to the Hermit Kingdom, ruled over by his best friend with an iron fist.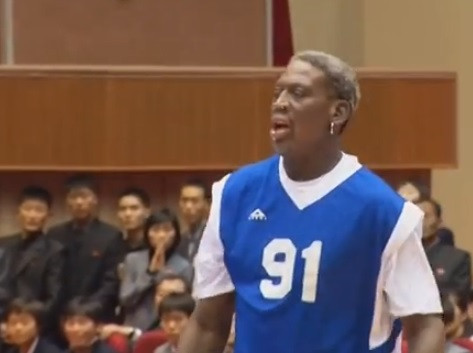 "This is for his birthday, this is his gift," Rodman said ahead of the match. "This is his gift, from me, from me, from the world.
"I love the guy, the guy is my friend, forever and ever and ever."
The 54-year-old has courted controversy by refusing to discuss human rights abuses during his meetings with Kim.
Arriving at Beijing airport ahead of the game, Rodman declared he loved Kim and insisted his basketball contingent were going to coach the Koreans and were not politicians.
Relatives of Korean-American man Kenneth Bae, who is imprisoned in North Korea for sedition, condemned the trip to play basketball for Kim's birthday.