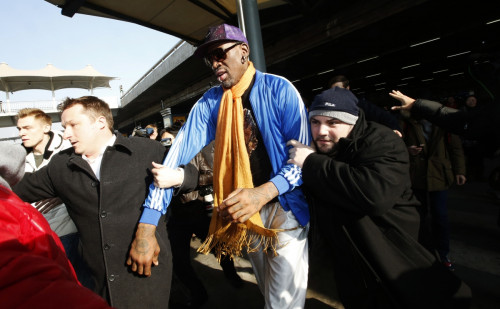 Upon coming back from a trip to North Korea, Former basketball star Dennis Rodman has apologised for the controversies it caused.
Rodman spent a week in the secretive Asian nation with a team of retired NBA players.
The group took part in an exhibition game to celebrate the birthday of Kim Jong-un, during which Rodman, 52, led a public rendition of Happy Birthday for the North Korean dictator.
The trip was slammed due to North Korea's poor human rights record.
Rodman was also personally attacked for not using his influence with Kim to help free Kenneth Bae, an American missionary detained in poor health in North Korea.
"I'm sorry, I'm sorry I couldn't do anything," Rodman said addressing media upon landing at Beijing airport from Pyongyang.
"It's not my fault. I'm sorry. I just want to do some good stuff, that's all I want to do," Rodman, 52, said, choking back tears.
Bae has been detained for more than a year over not clearly specified "anti-state crimes."
Rodman defended the trip, saying it was one of goodwill.
"I wanted to show the world we can actually get along in sports. That is it," he told the CNN.
"I want to show people that no matter what's going on in the world, for one day, just one day, no politics, not all that stuff.
"I'm sorry for all the people and what's going on, I'm sorry," he continued. "I'm not the president, I'm not an ambassador, I'm just an individual that wants to show the world the fact that we can actually get along and be happy for one day."
Rodman and Kim have struck up an unlikely friendship over the past year.
He said he would return to North Korea next month.