Designer Giorgio Armani Unveils Official Olympic Uniforms of Italy [PICTURES]
Fashion tycoon, Giorgio Armani officially unveiled the Italy Olympic kit on 10 May, 2012 in Milan. Up to 15 Olympic participants and sportspersons walked the ramp during the unveiling of the Olympic uniforms including Italy's fencer Valentina Vezzali and female driver Tania Cagnotto.
For the 2012 event, a set of Armani luggage containing the 50-piece, dark blue and white clothing will be handed to all athletes.
Inscribed within the jackets and sweatshirts are the words of Italy's national anthem while the polo shirts will have the words to the beginning of the song under the collar.
"Fashion represents a great Italian flag for the whole world and it is a beautiful idea to combine it with sports. Let's hope sports will be as glorious," Reuters quoted a tanned and fit Armani, looking younger than his 77 years thanks to 90 minutes of daily gym training saying.
The fashion guru further mentioned at the press conference that he was very honoured to participate with fellow fashion competitors like Ralph Lauren and Stella McCartney for designing the uniforms for the event.
It was first American designer Ralph Lauren who unveiled the official Olympic kit for Team USA. This was followed by the Team GB uniform unveiling by British designer Stella McCartney.
The Telegraph reported that every set of Armani luggage handed to the athletes will include asymmetrically-zipped official tracksuit that they will hope to wear on the podium, warm-up kit, Bermuda shorts for posing around the Olympic Village and a selection of trousers, shirts, shoes and T-shirts. Unlike McCartney, who partnered with Adidas for her Team GB collection, Armani has not created clothes in which the athletes will race, swim, cycle, or otherwise compete.
According to Reuters, Armani avoided excessive use of the white, red and green of the Italian flag, but showed a patriotic streak by embroidering in gold the first sentences of Italy's national anthem on the inside lining of the uniform jackets and on the back of polo shirts collars.
Catch a glimpse of the official unveiling of the Italy Olympic kit: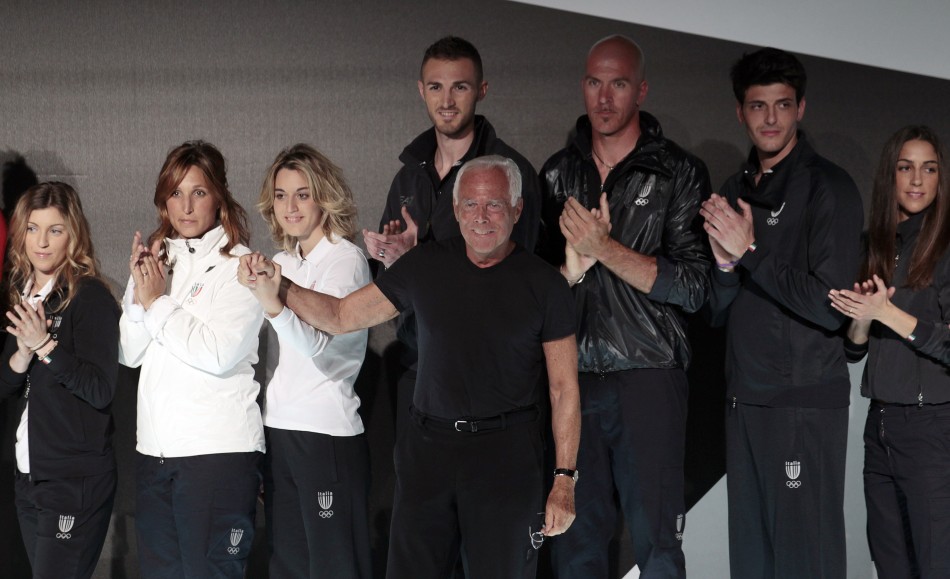 © Copyright IBTimes 2023. All rights reserved.