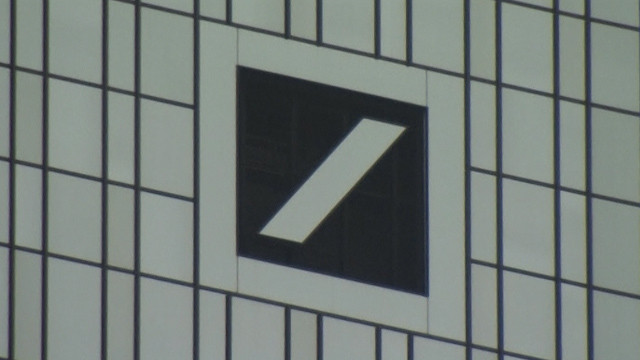 Deutsche Bank has settled a 12 year long corporate dispute lawsuit by pledging to pay €925m to Leo Kirsch's estate after the former head of a media empire blamed Germany's largest lender for the group's collapse.
In a bid to rectify "legacy issues", as the bank faces a raft of other major lawsuits and investigations into market manipulation, Deutsche Bank's leaders want to put an end to the long running legal case.
"We intend to make further progress in this regard, step by step, throughout 2014," said joint chief executives Anshu Jain and Juergen Fitschen in a statement.
"We welcome the settlement. We would have liked to see it concluded during the lifetime of Leo Kirch. The damage caused by Deutsche Bank was significantly greater than the settlement," said a spokesman for the Kirch family as Leo Kirch died in 2011.
Kirch claimed that the bank's former CEO Rolf Breuer triggered his group's collapse after he questioned the company's creditworthiness in a 2002 TV interview at the World Economic Forum.
Deutsche Bank and its officials denied the claims at the time.
The lawsuit has been dragged through the courts for over a decade as Kirch claimed that, since Breuer was also then chairman of Germany's private-sector bank association, his comments delivered a warning signal to other creditors and therefore hurt his company's future financing.
In 2012, a Munich judge found the bank partially liable for Kirch's demise and said Kirch suffered damages ranging from €120m ($162m, £101m) to €1.5bn due to the bank.
Subsequently, the bank has asked Germany's top civil court to review the ruling.
In November 2013, prosecutors told Deutsche Bank it could face a fine if suspicions about the testimony of Co-CEO Juergen Fitschen are confirmed.
The prosecutors previously named Fitschen as a suspect in a lawsuit over the collapse of the Kirch media.
Deutsche Bank, had just extended Fitschen's contract as co-CEO until 2017 at the time, said in a previous statement that he would be cleared from the lawsuit.
"The bank is absolutely convinced that this suspicion will prove to be unfounded," Deutsche Bank said last year.