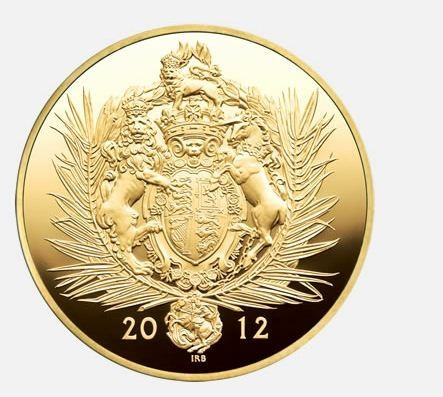 The Royal Mint has unveiled a unique souvenir for the diamond jubilee weekend celebrations of the Queen - coins made out pure gold and weighing a kilo each - as a special tribute to mark the Queen's diamond jubilee celebrations.
There are only 60 coins available from this rare edition and they have been placed in a wooden case made from the chestnut taken from trees in Great Windsor Park. The coins feature the Royal coat of arms from the gates of Buckingham Palace on one side and underneath that is a detailed representation of St George slaying a dragon, between "20" and "12", denoting the year of issue - 2012.
On the reverse is a portrait of the Queen wearing the robes of the Order of the Garter - one of the oldest orders of chivalry and an honor only given to a recipient by the Queen. Her Majesty is also seen wearing Queen Mary's Tiara, a wedding gift to the Queen from her grandmother in 1947.
The text "ELIZABETH II D G REG F D 1000 POUNDS" is positioned around and over the primary design.
This royal souvenir was designed by artist Ian Rank-Broadley FRBS, whose earlier works include the recent reverse designs for the £5 and £10 diamond jubilee coins, along with the work on coins presently in circulation and in use since 1998.
The gold coin has a face value of £1,000 but costs £60,000 per piece because it is a limited edition piece. Incidentally, it is also one of the largest denomination coins ever produced and issued by the Treasury of the UK and required a special parliamentary bill enabling these to acquire legal tender status. Each coin comes with a numbered Certificate of Authenticity, a booklet and a numbered plaque and can be purchased directly from the Royal Mint.
Along with the gold coins, similar coins made out of silver - with a face value of £500 and valued at £2,600 are also available. The Royal Mint has also released an overall series of coins starting from £5 as part of the diamond jubilee weekend celebrations.
For more information on these and other coins offered by the Royal Mint, visit the Royal Mint Web site.