Dick Cheney warns Russian meddling in US election akin to 'an act of war'
Former vice president says Americans should not 'underestimate the weight' of Putin's attempts to influence politics.
Former vice president Dick Cheney is calling Russian President Vladimir Putin's meddling in the American election akin to an "act of war" that should be taken very seriously.
"There's no question there was a very serious effort made by Mr Putin and his government and his organisation to interfere in major ways with our basic fundamental democratic processes," Cheney said on Monday (27 March).
"In some quarters that would be considered an act of war," Cheney continued during a speech at the the Economic Times Global Business Summit in New Delhi, India.
"I would not underestimate the weight that we, as Americans, assign to the Russian attempts to interfere with our internal political processes."
The former vice president was referring to the findings of reports compiled in early January by American intelligence agencies. These found Russian intelligence-linked hackers stole emails from the Democratic party, high ranking Republicans, and Hillary Clinton's election campaign.
Ongoing investigations at the FBI and in the Congressional House and Senate intelligence committees are looking at how these emails were spread across the internet and the contacts between Russian officials and President Donald Trump's 2016 campaign.
"There's not any argument at this stage that somehow the election of President Trump was not legitimate," Cheney said, but he insisted that Russia's attempts to influence the election need to be taken seriously.
These comments run counter to President Trump's. Late on Monday Trump wrote on Twitter that the "Trump Russia story is a hoax."
"Why isn't the House Intelligence Committee looking into the Bill & Hillary [Clinton] deal that allowed big Uranium to go to Russia, Russian speech money to Bill, the Hillary Russian 'reset,' praise of Russia by Hillary, or Podesta Russian Company," the president wrote.
Trump roundly dismissed the possibility of Russian interference in the election leading up to a US intelligence agency report on 9 January that found Putin had worked to sway the 2016 election in Trump's favour. He has also suggested that sanctions for Russia's annexation of the Ukrainian region of Crimea in 2014 should be dropped.
The president has maintained that there were no contacts between his campaign and Russian officials. But leaks have revealed that Trump's former campaign manager Paul Manafort spoke with Russian officials during the election, as well as there being secret talks between now Attorney General Jeff Sessions and former National Security Adviser Michael Flynn and Russia's ambassador to the US.
However, former US Defense Secretary Cheney, who was vice president under George W Bush and lead the White House push for the Iraq War, has been warning about Russia for months.
"I think that there is no question that Mr Putin is a very dangerous man," Cheney, said at the Reagan National Defense Forum on 3 December 2016. "I think he has aspirations to restore as much as he can of the old Soviet empire," Cheney said. "I think he clearly has aspirations to take advantage of weakness, and I think he has perceived weakness in the United States in recent years."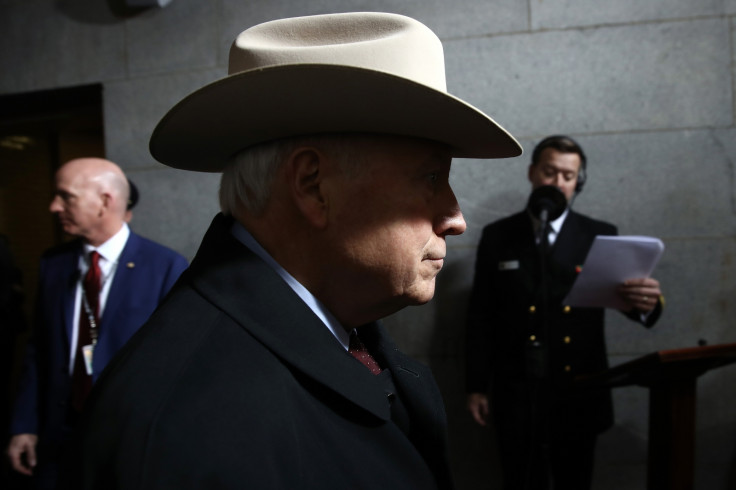 © Copyright IBTimes 2023. All rights reserved.