Miranda Barbour admitted murdering at least 22 people in a jailhouse interview with the Sunbury Daily Item in Pennsylvania, yet her claims are being met with scepticism.
The teenage Satanist has already been charged with the murder of a man she met on Craigslist contact website. Last week, however, she told reporters she had killed over 20 others across the US, from her home state of Alaska to North Carolina.
Barbour, who was involved with a Satanic cult, told the newspaper: "I feel it is time to get all of this out. I don't care if people believe me. I just want to get it out."
Her statement spurred police to review previous unsolved murders in various states for potential links. Her claims have not yet been substantiated.
Tony Rosini, Northumberland County District Attorney, said: "As of this date, there has been no verification of any of the information that has been the subject of media coverage regarding prior acts of the defendant."
Barbour said she joined a Satanic cult in Alaska when she was 13, after suffering childhood abuse at the hands of a relative.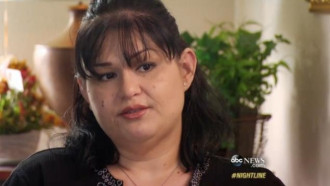 The head of the New York-based Church of Satan, the nation's largest Satanic body of which Barbour said she was a member, has denied any involvement with its congregation.
According to CNN, Peter Gilmore said it was unlikely the teenager's claims were true: "Thorough investigation will likely demonstrate that this cult story is fiction."
In December 2013, Barbour was arrested with her husband Elytte for luring a man to his death with a Craigslist advert. Troy LaFerrara, aged 42 from Port Trevorton, was stabbed 20 times by the couple, who had been married for three weeks.
The victim's body was discovered on November 12th, 100 miles north-west of Philadelphia. LaFerrara had responded to an online posting that promised companionship in exchange for money, according to Sunbury police.
Elytte told investigators he hid in the back seat of the couple's SUV as Miranda picked up LaFerrara at a shopping centre. On his wife's signal, he wrapped a cord around the victim's neck to restrain him, while she stabbed him.
If found guilty of giving false murder confessions regarding previous killings, she could face criminal charges for wasting police time.
In 2008, Mayra Rosales, dubbed the "Half Ton Killer", admitted she lied about murdering her two-year-old nephew because she was covering for her sister.
Rosales, who was morbidly obese, said she tried to protect her sister Jamie because she was already dying.
She was charged with the murder of Eliseo Jr., by falling on him and crushing him, yet an autopsy revealed the boy has died from blunt force trauma.
Eventually, she was acquitted of all charges in January 2012 and Jamie was sentenced to 15 years in prison.
In 2000, Corethian Bell, who had learning disabilities, was accused of murdering his mother after he found her body and alerted the police. He admitted to killing Netta Bell after being questioned for 50 hours, during which he was hit and knocked off his chair.
He was imprisoned for a year before DNA at the crime scene was finally tested, which matched serial sex offender DeShawn Boyd.