Who is Teenage Satanist 'Craigslist Killer' Miranda Barbour?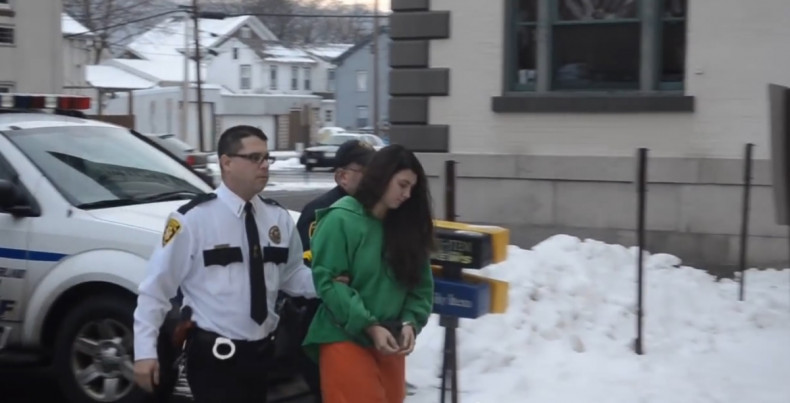 A teenage Satanist charged with the murder of a man she met through the Craigslist contact website has admitted killing at least 22 others.
In a jailhouse interview with The Daily Item in Sunbury, 19-year-old Miranda Barbour said she had killed more than 20 across America, from her home state of Alaska to Texas and North Carolina.
Barbour, who was involved with a Satanic cult, told the newspaper: "I feel it is time to get all of this out. I don't care if people believe me. I just want to get it out."
Who is Miranda Barbour?
In December 2013, Barbour was arrested with her husband Elytte for luring a man to his death with a Craigslist advert. Troy LaFerrara, aged 42 from Port Trevorton, was stabbed 20 times by the couple, who had been married for three weeks.
The victim's body was discovered on November 12th, 100 miles north-west of Philadelphia. The Barbours had recently moved to Selinsgrove in Snyder County area of the state, from North Carolina.
Miranda has a son by a man who is now deceased, whose death is now being investigated. The child is currently in protective services.
How did they lure LaFerrara?
The victim had responded to an online posting that promised companionship in exchange for money, according to officials. Before he was arrested, Elytte Barbour told officers that he and his wife had planned to kill before, but their plans had not come to fruition.
According to Sunbury police, Elytte told investigators he hid in the back seat of the couple's SUV as Miranda picked up LaFerrara at a shopping centre. On his wife's signal, he wrapped a cord around the victim's neck to restrain him, while she stabbed him.
While Miranda acknowledged meeting LaFerrara at the park, she claimed he had groped her and she stabbed him after he put his hand around her throat. The police said Miranda had told them she purchased cleaning supplies at a nearby shop after the incident, then picked up her husband and took him to a strip club for his birthday. However, Elytte told investigators he had purchased the cleaning products, which was reportedly backed up by surveillance footage.
What was Miranda's involvement with a Satanic cult?
Barbour joined a Satanic cult in Alaska when she was 13, after suffering childhood abuse at the hands of a relative. She said she had been introduced to murder shortly after she joined the group in the Fairbanks North Star borough. She described how the cult's leader had shot a man who owed him money. She told reporters at the Daily Item she carried out the "majority" of slayings in her home state.
What's next for the Craigslist killer?
In the Daily Item interview, Barbour revealed she did not want to get out of jail and that she would kill again if she were released. She said she had no remorse and only killed "bad people".
She said: "I would lure these people in. I studied them. I learned them and even become their friend. I did this to people who did bad things and didn't deserve to be here anymore."
Steve Mazzeo, the police chief of Sunbury, said authorities knew of Barbour's claims and were working with "law enforcement from various cities and towns".