Former NBA star Dennis Rodman, who stoked controversy with his visits to North Korea, has flown out of Pyongyang after a "really good" trip. He arrived in Beijing on Saturday (17 June) ending his five-day tour to the reclusive nation.
The flamboyant player sported a black T-shirt advertising a marijuana cybercurrency as he talked to reporters briefly upon touching down at the Beijing International Airport.
He, however, fended off most questions about the details of his trip and if he had met the North Korean dictator Kim Jong-un.
"Just one thing, everybody's going to be be happy. It was a good day. It was a good trip, a really good trip," Rodman told reporters.
When repeatedly asked if he had met Kim during his five-day visit, the ex-Chicago Bulls player said: "You'll find out."
Speaking to the media just before his visit to Pyongyang — for the first time in Donald Trump's presidency — Rodman had said he would only try "to open a door" with North Korea on a mission that he thought his former Celebrity Apprentice boss would support.
Rodman is also reported to have declined questions about whether he had played any role in securing the release of Otto Warmbier, an American student who was returned to the US after being detained in Pyongyang for 17 months. The University of Virginia student was released on the same day Rodman landed in Pyongyang – on 13 June.
On his way to the airport in Pyongyang, Rodman said his "thoughts and prayers" are with the family of Warmbier, who is reported to have returned to his home in suburban Cincinnati in a state of coma.
Both US and North Korean officials confirmed that Rodman had no role in freeing Warmbier and that the timing was just a coincidence.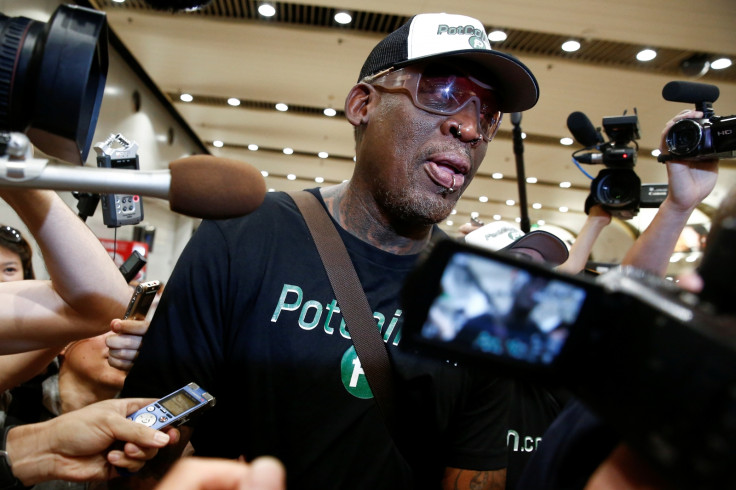 Rodman has also vowed to return to North Korea.
"You know Dennis is working hard for both countries, trying to mend the tension as much as possible, you know. With sports that's what happens, sports unites, sports and music unite, so..." Chris Vollo, Rodman's agent, told media.
The basketball star's visit to the reclusive country fuelled speculation that he could in some way facilitate a diplomatic breakthrough between the US and the Kim clan.
During all of his past four trips since 2013, Rodman has received the red-carpet treatment in Pyongyang. But he has also been roundly criticised for visiting the country at a time when tensions between the US and North Korea have been running high over Kim's weapons programmes.
The world is concerned about North Korea's repeated missile tests and its ambition to develop an intercontinental ballistic missile capable of striking the US mainland.
During his current visit, Rodman is reported to have played basketball with the North Korean men's and women's team. He also visited the city zoo, met Olympic athletes and presented an unsigned copy of US President Donald Trump's book, The Art Of The Deal to North Korea's sports minister.
The book was reportedly meant to be passed on to Kim, who has met Rodman during the star's previous visits in 2013 and 2014.
Rodman's most recent visit to the North was in 2014 where he was filmed singing happy birthday to Kim - his "friend for life". The trip was slammed due to North Korea's poor human rights record.